How to pick your first book to read in a foreign language
Reading and listening to books in a foreign language is a great way to learn the language. I learned Polish largely through reading and listening to Harry Potter.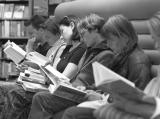 It helps your brain learn to think in the language. Reading and listening to hundreds of hours of correct sentences will give you a sense of what "sounds right". You will be able to form correct sentences of your own by feel, not just grammar mathematics.
So, you'd like to give it a try. But what book should you choose?
Read more for advice on how to pick what to read in a foreign language.
While you may feel like you should try to read the classic literature of your target language, that's probably not a good idea for the first book. In fact, maybe not the 2nd, 3rd or even 10th or 20th book.
Quantity is more important than quality. Reading a dozen popular books you enjoy will likely teach you more than forcing your way through just one of the classics.
For some languages (particularly English), simplified versions of classic novels are available. But every book you read will get easier and easier. Personally, I'd rather wait a little while until I was ready so that I could enjoy the sense of accomplishment from reading a classic book in its original language.
Many people advocate reading children's books. The logic is: "Learn like a child." But you are not a child!
The vocabulary can be rather strange, with a focus on animals, fantastical creatures and silly words. Sometimes the sentence structure is non-standard, intended to be funny or carry a certain rhythm or rhyme. In other words, not like normal language at all.
Some people really do like reading children's books and so could probably learn a lot from them. But if you don't like reading them in your native language, you probably won't like reading them in your target language, either!
Starting to read a new book is the hardest part. It takes a while to get to know all the characters, scenes, style of the author, etc. But after the first few chapters, it will really start to flow.
An individual author will tend to repeat certain vocabulary, especially in an individual book. But also, knowing the rules of the universe in that book and knowing what the characters are like, will help you guess words from context, even if you see them only once in the whole book.
For example, if something happens that you know is likely to make a character upset and the author uses a new adjective that you've never seen before, you can guess it means the character is upset.
So, it's better to read one long story rather than several short stories. Reading several books in a series (like Harry Potter) or even several books by the same author can help you read more, but avoid the long buildup when starting a new book.
This shouldn't need to be said, but only read something in a foreign language, if you'd enjoy reading it in your native language!
Don't get too hung up on trying to find something perfect. Maybe just take the next book you were going to read in your native language and read it in your target language?
Maybe read a book you already know you enjoy from reading it in your native language? Or the book from a film you liked (one of the reasons I chose Harry Potter)?
No matter how motivated you are to learn the language, you will have trouble reading a whole book you don't like!
Have you read a book in a foreign language? Write a comment about your experience! Do you have any advice for someone trying to choose a book to read?