How to practice speaking over the internet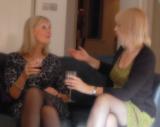 Nothing can replace practicing your language with a native speaker. But what if no native speakers live in your city? Not everyone has the means to travel to another country.
But that doesn't mean you can't practice speaking!
I've written about language exchange in the past.
This is where you meet with someone who's native language is the language you are learning and your native language is the language they are learning. For the first half of the meeting you talk in one language and for the second half you talk in the other.
And the best part is that this is something you can do entirely over the internet, using voice chat software like Skype!
Read more to learn how!
My experience with language exhange
While learning both Polish and Russian I've had a many language exchange partners.
In the beginning, particularly while learning Russian, I didn't have much success with it. In retrospect, I don't think I found the right partners. It can take time to find someone who not only has the right skill level and can meet at the appropriate times, but also meshes with you on a personal level.
I had much more success with Polish. In all, I've had eight seperate long-term language exchange partners and also participated in a language exchange club when we were living in Kraków.
It's not only a great way to practice speaking, but you also get to meet really interesting people and have fascinating conversations. It doesn't feel like "studying" at all. :-)
Finding language exchange partners
Before my videos and blog, I found language exchange partners mainly through xLingo. It's a great, free site that helps connect you with people who want to communicate over e-mail, instant message or Skype (in your profile you set which you are interested in).
After my videos and blog started getting more popular, I got so many requests from people to have language exchanges that I didn't need to use xLingo anymore. Unfortunately, I don't have time to meet with everyone so I have to turn most of them down.
However, very recently, one of my former language exchange partners created a new language exchange site, Language|Exchange Project, which will be the topic of the rest of this article!
Language|Exchange Project
Unfortunately, I haven't had a chance to really use the site because I'm not looking for a new language exchange partner.
But I know Greg, the creator of the site.
Now he speaks very good English -- but that wasn't always the case! In the process of learning English, he has used language exchange much more extensively than I have and has experience with lots of language exchange websites.
If anyone knows what should go into a high quality language exchange site, it's Greg. :-)
Hear is a very short review of the sites features:
Searching: You can search by language as well as age, gender and the country they live in. By default it also includes proficient speakers of your target language but it's possible to limit the search to native speakers.
Charts showing which language groups are on the site: All language exchange sites attract different groups. Here you can easily see if the group you want to meet is there!
Contact preference: In your profile, you can set what type of communication you prefer: e-mail, text chat or voice chat.
Facebook integration: Login is done entirely via Facebook. But accounts are also linked to the users' Facebook profiles, so you can get to know more about your language exchange partners and their interests before contacting them. Also, you don't need to enter your interests again into another site - Facebook already has them.
Overall, I highly recommend trying language exchange and using the Language|Exchange Project to find your partners!
Have you done language exchanges to practice speaking? Was it helpful? Or is it a waste of time? Write a comment below!