Don't Start Learning Polish with the Grammar!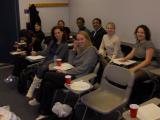 When we were in Kraków, Poland, I met a lot of foreigners just starting to learn Polish. One of the main complaints was that Polish grammar is so complicated. Most Polish language courses, textbooks and teachers start by saying, "Learn all the grammar rules first and then we can continue."
This can kill your motovation and won't really get you any closer to your goal: to speak and understand Polish!
I started learning Polish in the traditional way. My first year with Polish was at the University where we learned all the rules for conjugating verbs and declining nouns and adjectives into all seven cases. We didn't learn much else. But I can't say it was a bad course -- I enjoyed it, the professor was great and I learned the grammar rules very well.
Of course, I'm a computer programmer. I like systems and rules. Polish grammar is a little like math with letters and words.
But even though I knew all the grammar rules, I couldn't use them in speaking. In fact, I couldn't say much at all, because I learned very little vocabulary in that whole year -- only enough to cover the grammar points. Even now, there are many rules which I know but still make mistakes with when speaking.
For example, I know its correct to say, "dużo Polaków pije herbatę". No question, I know it. But when speaking, I almost always say, "dużo Polaków piją herbatę" ("piją" instead of "pije").
Rules are something you learn consciously. Speaking and understanding a language is something that happens unconsciously. (Some links to the linguistics behind this)
When you speak your native language, you think a thought then simply open your mouth and speak. When you listen to someone speaking, you don't dissect it grammatically, the meaning simply appears in your head. Completely unconsciously. You don't do any grammar mathematics.
Consider the grammar rules required to make this thought into an English sentence:
The situation: book (blue), person (female), to read.

The person is doing the reading, so they're the subject and in English subjects go first. The female 3rd person singular pronoun is "she", so we start with:

> She

Ok! Now, English is SVO, so the verb come next: "to read". Used with a person we drop the "to" and, oh yeah, its 3rd person singular, so we add an -s:

> She reads

The object is "book". In English, adjectives come before the nouns they describe. So its:

> She reads blue book.

Right! Wait, no.

Its happening right now, which is a different tense: present continuous. The formula for that is: be + present participle. The 3rd person singular form of "be" is "is" and the present participle of "to read" is "reading".

> She is reading blue book.

Awesome! Done...

Not correct you say? Let me get out the 20 page list of rules about the use of articles and decide to use one of those:

> She is reading a blue book.

And now speak!
To native speakers of English: Do you ever do that kind of thinking when you speak English? Nope! So, how do you expect to do it when speaking a foreign language? Also, I hope this helped you realize that English grammar is complicated too!
To non-native speakers of English: I plan to write an article about the use of articles. Don't worry if you have problems with them, they are very hard.
When and how to learn grammar?
Later and slowly! ;-)
Even after you learn all the rules, you won't be able to use them correctly. It will take time and exposure to the language to really use them unconsciously. So, why waste a whole year in the beginning to learn the rules first?
It can seriously hurt your motovation to spend a lot of time and energy learning the grammar, only to find out afterward that you still can't speak or understand much Polish!
Comming soon on LinguaTrek!
Articles on the same topic (getting started, Polish grammar) which I plan to write in the near future:
How to get started with Polish: If not with grammar, how should I get started learning Polish?
What grammar to learn first: Eventually, you will have to learn some grammar rules. Which ones should I learn first?
Good grammar resources for Polish: Once you are no longer a beginner, you will need to learn more and more grammar. Where can I find good information on Polish grammar?
There is a lot of discussion in linguistics about the distinction between language learning (conscious) vs language acquisition (unconscious). If you want to get deeper into the linguistics, you can read this book online (free!) called Second Language Acquisition and Second Language Learning (1981) by Dr. Stephen Krashen. There are other, newer books available but not quite as free. ;-)