Things I Love About Poland #01: Waiters leave you alone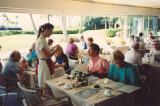 This is the first in a series of articles called "Things I Love About Poland." In this article, I talk about the differences between America and Poland when it comes to restaurants.
In Poland, if you only order one round of drinks, food and then pay, the waiter will come to your table exactly four times:
To take your order (usually food and drinks are ordered at the same time)
To bring your drinks
To bring your food
To give you the bill (Note: This doesn't happen automatically! You have to flag the waiter down and ask them for the bill)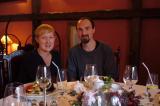 In the USA, the waiter can come to your table ten or more times. Sometimes just to ask if everything is OK! In Poland, everything is assumed to be OK until you say that it isn't. If you want anything else, wave to the waiter and ask for it. You can sit and enjoy your food and the company of the people you came with, without being interrupted by the waiter.
Believe it or not, most Americans prefer to be bothered constantly by the waiter. It is considered good customer service.