Things I Love About Poland #03: Country vs. City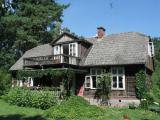 This is the third in a series of articles called "Things I Love About Poland," where I discuss differences between Poland and the USA. In this article, I talk about my dream of living in a Polish village.
In Poland everything is close together. When we lived in Kraków, we lived near the northern edge of the city. Normally we took the tram into the city center ("downtown" for Americans -- "center" in this meaning is mainly British, but when I talk about Poland I like to use it because it sounds like the same word in Polish: "centrum"). But if I wanted to walk there instead it took me exactly 35 minutes (I did it a lot).
For the time being, we're living by my parents just north of the city limits of Milwaukee. It takes me about an hour and fifteen minutes to bicycle downtown! After I get back into shape maybe I'll do it faster. ;-) But walking would be crazy. It would take several hours. This is one of the reasons everyone drives in the USA.
If you wanted to get to the country it would take at least an hour of driving depending on which direction you go. The city goes on and on. Even if it's not technically the "city" it's very city-like. Despite the fact that Wisconsin is mostly country, I've spent so little time there because it's just so far outside of Milwaukee.
In Poland, the difference between city and country (in Polish, instead of "country" you say "village" or "wieś") is very abrupt. Whenever we traveled back to Kraków from somewhere else on the train or bus, you could witness the transition just by looking out the window. You'd see country, country, country ... and suddenly, city! We've arrived! It's Kraków!
Because the country and city are so close, it was always one of my dreams to have a country house in Poland, just outside a city. That way I could enjoy the peace and quiet of the country, have a garden and build our house -- all the while being able to get into the city quickly on the bus (that's right, no car strictly necessary!).