Harry Potter: The book that taught me Polish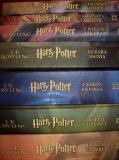 I've studied Polish mostly from reading and listening to books. The first book I ever read in Polish, was Harry Potter. When I first started to read Harry Potter, I had only been learning Polish for about a year at the University.
While I did enjoy that class (mostly because of the professor) it was basically all grammar, grammar and more grammar. At the end of that year, I couldn't really speak or understand Polish normally.
I started reading the first Harry Potter book in January of 2008. It took me four months to finish it. Honestly, it was extremely difficult and took a lot of commitment. But after finishing that book, I really felt like I spoke Polish. My brain was able to produce and understand Polish automatically!
While the first book took me four months, I managed to read all seven Harry Potter books before the end of that year! Each book was bigger and bigger, but I managed to read each one faster and faster. I read (or rather listened to) the last book in only a couple weeks. My learning accelerated exponentially.
Read more to learn about the method I used!
My Method
I originally wrote about this in February of 2008 on my old blog, when I was still actively reading the first book.
First, I read and simply tried to understand from context. Later, I would go back over what I read and look up all the words I didn't know in the dictionary. I created flashcards on the computer for all these words. Everyday I reviewed my flashcards.
(At the time I used a program that I had written myself for the flashcards. I've already stopped maintaining this program and its no longer available on the internet. But it was based on spaced repetition and worked similarly to SuperMemo or Anki -- which is what I would recommend for flashcards now.)
Audio books
For each Harry Potter that I read, I always bought the paper book and the audio book. For the first book, I didn't use the audio at all. At the time it just scared me -- I thought it was too hard for my level (thinking back, I probably should have tried anyway).
With later books I used the audio in various ways. First, I read a section and then listened to it. Later, I tried the reverse, listening then reading. This way I would understand some things on reading that I might have missed when listening.
Ultimately, with the last couple books, I only listened. I maybe opened the paper version a couple times when something was really difficult, but very rarely.
The result?
This method was very effective for me. At the beginning of 2008, I couldn't speak or understand Polish in any realistic sense. Of course, I knew some grammar from my course at the University, but that was about it.
By the end of 2008, I spoke pretty good Polish. Not perfectly (I still don't speak perfectly), but pretty good.
In September of 2008, I recorded my first YouTube video in Polish. Take a look for yourself! Of course, I speak a little better now, but I wasn't too terrible even then.
In future posts, I'll talk about why I think this method works.
Problems
There were a few problems with my method!
Mainly, it was very time consuming. The time spent reading and listening was fine. In fact, it very enjoyable! I always wanted to know what would happen next in the story.
But I also spent a lot of time searching for words in the dictionary. I had to use several dictionaries (both online and on paper) and frequently it was difficult to find certain words. Writing the flashcards also took quite a bit of time.
A solution!
This is why created my new project: BiblioBird.com.
It allows you to read and listen to texts in a foreign language. When you don't know a word, click on it to receive a translation in your native language. BiblioBird remembers all the words you clicked on and saves them to a list. Very soon, it will make flashcards out of this list automatically.
At the time of this writing, BiblioBird is still at the very beginning stages. But I have lots of ideas for how to improve it.
Unfortunately, most of the texts are targeted at Polish speakers learning English. There is presently only one text in the system for people learning Polish. I'm working on adding more texts and in the future, users will be able to add texts themselves.
Other tools
There are a number of other programs similar to BiblioBird. In future posts, I'll discuss the merits of each, but for now here is a list:
Lingq - Commercial with a limited free option. 12 language: English, Spanish, French, Italian, German, Swedish, Russian, Portuguese, Japanese, Chinese, Korean.
Lingro - Free. 11 languages: English, Spanish, French, German, Italian, Polish, Portuguese, Swedish, Russian, Dutch, Chinese.
The Polyglot Project - Free. 5 languages: French, German, Italian, Spanish, English.
Note: This blog post is basically an English translation of a YouTube video I recorded in Polish a couple weeks ago.