You don't need to speak like a native speaker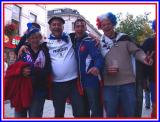 In my article Let's stop saying "fluent!", I discussed the popular belief that being "fluent" means speaking just like a native speaker. Some people are obsessed with trying to speak like native speakers while others in the language learning community (like Cody of Codylanguagesblog) don't even think it's possible.
I don't want to say that it's impossible. Why should it be? If someone was motivated enough and worked really hard, I don't see why they couldn't reach that level. But, personally, I don't care about speaking like a native speaker.
Read more to find out why!
I think it all comes back to your motivation. Why are you learning the language? Maybe to travel, to meet people, to read literature in the original, to live in the country, to work as a translator/interpreter. Even for the last reason, speaking like a native speaker isn't necessary. In fact, I can't think of any goal (except "to speak like a native speaker") where it is necessary!
Personally, all I want is to be able to freely express myself and to understand anything I happen to read or hear. And that is a pretty huge goal!
I have never tried to work on my accent (although people do sometimes compliment me on it). So long as I speak clearly enough to be understood, I am happy. I don't want to fool anyone into thinking I am Polish. What is there to gain from that? I am who I am.
Some people get really caught up in this. They think they are "failing" if they aren't matching native speakers. Of course, you should always strive to emulate natives, but it's no problem if you don't achieve it. Relax! Remember the reason you are learning the language and focus on that.
One big problem is the Law of Diminishing returns as it applies to language learning. In the first year, you might get 50% of the way there. In the second year, 75% of the way there. Third year -- 88%, fourth year -- 94%, fifth year -- 96%. Do see where I'm headed? After six years you might get to 97%, but it could be ten more years before you cross that last 3%.
Native speakers are hyper-tuned to their own language. We all are. A native speaker will notice even the slightest mistake or mispronunciation. To fool someone into thinking you're a native speaker for even one minute is a huge accomplishment. And doing it all day long? Legendary!
Don't let this become your white whale! In chasing it, you might lose sight of what you are after and kill your motivation!