Milwaukee, Wisconsin's unique English dialect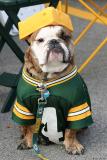 There are several English dialects. Within the United States, these dialects don't vary that much, but there are differences.
I'm from Milwaukee, Wisconsin, which has its own peculiar dialect. It's starting to die out now that most young people speak a more standard version of English. Even so, everyone can still understand it.
Read more to learn about some of the unique phrases in my dialect of English!
In most of the United States, you would say, "I'm going to John's house" or "I was at grandma's house." In my dialect, you could also say, "I'm going by John" or "I was by grandma" -- which most other English speakers would interpret to mean that I was standing near John or grandma, not that I visited their homes.
I heard once that this comes from the German word "bei," but I don't have a credible reference. However, that would make sense given the large number of German immigrants that came to Wisconsin.
"It's cold out today, aina hey?"
This means "isn't it" or "aren't they."
"Down der on da lake."
"Der" means "their," "they're" or "there."
This isn't limited to just this one word: a "d" sound can be substituted for any "th" sound. For example: "da" for "the" and "dem" for "them". This also likely comes from Wisconsin's immigrant past, as many non-native speakers of English replace the unfamiliar "th" sound with a close equivalent.
Standard English uses "you" for both the singular and the plural. Speakers of many English dialects have invented their own plural versions, including "y'all," "you all" or "you guys." In my dialect it's "yous" or "yous guys."