5 English mistakes commonly made by Poles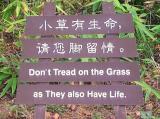 While teaching English in Poland and having language exchanges with Polish people over Skype, I've noticed that there are a few English mistakes that a lot of Poles seem to make.
While other nationalities certainly make these mistakes too, because of my familiarity with Polish, in most cases I can point to some characteristic of the Polish language that the speaker could be transferring to English.
Don't worry, none of the mistakes I'm going to discuss are critical! Native speakers will still understand, even if you make a few of these mistakes. :-)
Read more to see five mistakes that Poles commonly make when speaking or writing English!
Like many languages, Polish only has one word that means both "do" and "make" (robić). It's always challenging when your native language only has one word, but the language you're learning has two or more corresponding words! English speakers learning Polish will encounter this as well: in English, we have just one word for "know" but in Polish there are two (wiedzieć and znać).
The basic difference is:
We use "make" when the object is created as a result; for example: "make dinner."
We use "do" for activities in general; for example: "do taxes," or "do homework."
Confusion arises because both words are used in many expressions which don't follow these rules. You simply have to memorize them! For example:
make a mistake
make a decision
do someone a favor
do harm
"Trevor learns teaches us English!"
This is very similar to do vs. make. In Polish there is a word for "teach" (uczyć), but the word for "learn" (uczyć się) could be interpreted as "teach oneself."
There are actually dialects of English where people do use "learn" like the example above! But this is not standard English.
Both Polish and English have countable and uncountable nouns (meaning some words have plural forms and some do not). Sometimes these are the same words; for example, these words are uncountable in both languages: water (woda), music (muzyka) and coffee (kawa). But sometimes words that are countable in Polish are not countable in English.
The two most common examples I hear used incorrectly are "advices" and "informations." In Polish, these words are used very frequently in the plural form (porady and informacje). But in standard English, they can only be used in the singular form: "advice" and "information."
I've noticed that some Polish people sometimes drop the helper verb in sentences that require one. In Polish, there are no helper verbs.
But I think the problem stems from contractions in English. It can be difficult to hear a native speaker say the helper verb at all!
Sentence
With contraction
Can sound like
He is running
He's running
"

He running

"
He has done it
He's done it
"

He done it

"
John had already been there
John'd already been there
"

John already been there

"
The correct version is: "Where are you coming from?"
(Note [2011-09-13]: As pointed out in the comments by Mark Shepherd, in some dialects keeping the preposition in front of the question word is always acceptable.)
Some Poles don't like to end sentences with prepositions. In Polish, you always put the preposition in front of the object it affects. But in English, in questions, sometimes you move the preposition to the end of the sentence.
Do you know any other common English mistakes? Write a comment!