How to overcome your fear of speaking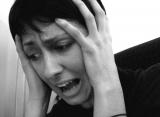 No matter how well you know a language, you can't communicate with anyone if you're afraid to use it.
While it might not seem like this has anything to do with language learning, this is a problem that affects a lot of people. Even me!
For a long a time, I was afraid to speak the languages I was learning (Polish and Russian). I still have trouble getting the courage to speak in certain situations (ex. on the telephone) or with certain people. It isn't something that I got over immediately, but I've slowly improved over several years.
Read more to learn how I got over my fear of speaking and how you can too!
In my case, I was afraid of one thing: making mistakes.
I felt that if I made a mistake something terrible would happen. I don't know what, but something terrible. People would laugh. Or they would think I said something embarrassing or stupid. Maybe the world would explode!
But being anxious or uncomfortable will simply make your language ability worse, increasing the likelihood that you'll a mistake. It's a self-fulfilling prophecy.
By making a ton of mistakes!
The more I made myself speak, the more mistakes I made. And you know what? Nothing bad happened! Everything was fine.
The year we spent living in Poland helped increase my confidence more than anything else. I was forced to speak. At first, I was very nervous in government offices. But we had to take care of business there in order to legally stay in the country. There was no other choice.
Now I'm a master of the tax office (Urząd skarbowy), immigration office (Urząd spraw cudzoziemskich), city hall (Urząd miasta) and social security (Zakład Ubezpieczeń Społecznych). There is a lot of bureaucracy in Poland, especially for foreigners.
Recording videos of myself speaking in Polish on YouTube has helped a lot too. In every video I make several mistakes and some videos are watched by thousands of people. I'm sometimes very nervous to post them.
But you know what? Everyone understands and everything is fine. Every single time.
Not everyone can travel to the country where their target language is spoken. And being forced to speak can be a pretty bad experience in itself.
So here is what I recommend:
Find one person you are comfortable speaking with in your target language (ex. your spouse, friend, a good teacher, etc).
Create the most comfortable situation possible (ex. in your home with a cup of herbal tea).
Talk with them as much as you can!
You will make mistakes - and that's ok! You'll soon see that nothing bad happens and you'll learn to be less afraid.
For me, I'm more comfortable talking to other non-native speakers, meaning people who are also learning the language. Of course, you'll want to talk to native speakers eventually, but you have to start somewhere.
Were you afraid to speak in your target language? How did you get over your fear? What is your advice? Write a comment!