Teaching English in Poland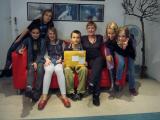 Want to travel to Poland for a long period of time but don't know how to afford it? Teach English!
If you are a native speaker of English or speak English at an advanced level, working as an English teacher can be a great way to support yourself while you travel abroad. In Poland, language learning is very popular and there are tons of private language schools (something completely unheard of in the States).
Even if your native language isn't English, you can probably find a school that teaches it. When we were living in Kraków, I knew Italian, German and Russian native speakers who were teaching their native languages!
Don't speak very good Polish? No problem! It's not required, and in fact, you will be encourage to never use the students' native language in the classroom.
From October 2009 to June 2010, my wife and I were working as English teachers in Poland. In this article, I'd like to give a little advice for people who want to do the same.
Read more for my advice!
Before teaching in Poland, I had some experience teaching ESL (English as a Second Language) to Russian immigrants in Milwaukee as a volunteer. I worked with individual students and taught one lesson a week for about two years. But I didn't have any experience in a classroom and my wife didn't have any experience at all!
So, we decided to take a four week intensive CELTA (a teaching certificate) course at IH Kraków (the course has since moved to the British Council but it's run by the same people).
The CELTA is the most recognized English teaching certificate and so it's the best to have for your job search. Unfortunately, CELTA courses are also very expensive.
You can probably take the CELTA in your home country, but I recommend taking it in your destination country because you can immediately start building your network. Finding a job in any country is frequently about who you know.
Beyond that, I think the CELTA course was very helpful! While I disagree with some of the teaching methodology, the course mainly consists of putting you in a classroom in front of students, where the tutors and other teachers will critique your performance. It's trial by fire, except in a very friendly and supportive environment.
And much like fight club: On the first day, everyone must teach! ;-)
Here are a couple of things to remember:
Start searching as early as possible: It's not uncommon for schools to interview and hire for fall semester starting in May or June. You can still find jobs at the last minute, but it will likely be just a few hours here and there.
Private schools will only give hours in the very early morning or from 4pm to 8pm: For many, that means teaching only 1-3 classes a day, which might not be enough to survive. Teaching children at a public school or teaching in a business (some businesses provide language lessons for their employees), is the only way you're going to get hours in the middle of the day. Also, classes on Friday are rare -- they will usually only happen if you teach children.
You may need to work at 2 or more schools: It's not uncommon that a school will only offer you a couple teaching hours, so you may need to work at several schools to get enough hours. That said there is generally more work than teachers, so you won't have any problems finding schools that need you!
For us, Gumtree was the best place to search for work online. For those who don't know it, it's just like Craigslist except Craigslist isn't at all popular in Poland.
The only other good site (there are tons of crappy ones!) I know for finding work is TEFL.com. They have a very small number of jobs, but they are high quality. If you are looking for work several months before moving to Poland, this is great a resource. Right now (2011-07-19) they have 12 jobs listed.
I could write several dozen articles on this topic, but I'll just start with an overview here! ;-)
There are only two options for legally remaining in Poland for longer than 90 days: a work visa or residence card (karta pobytu).
A tourist visa (which is what they stamp in your passport on entering the country) is only good for 90 days within a 180 day period. So, technically, if you are in Poland for 90 days, you have to leave for 90 days before you can return. However, that part is relatively new (added only a few years ago) and isn't generally enforced.
So, some people cross the Ukrainian border every 90 days to get a new tourist visa. But I don't recommend this because it is against the word of the law! Eventually, they will start enforcing this and deny you entry.
Unfortunately, it is only possible to get a work visa from the consulate in your home country. The easiest solution is to find a job before coming to Poland and they will help you get the work visa and work permit (zezwolenie na pracę).
This is not what we did! ;-)
If you're already in Poland, your only option is a residence card, which you can get on one of several bases: a work visa, marriage, Polish heritage, owning a business, and many more. The option that is open to pretty much everyone is starting a business, which is what we did.
Starting a business can also be useful if you want to work at more than one school. A work permit is only good for the employer it was issued for. Few schools will pay and do the paper work to get you a work permit unless you will work there full-time (around 20 classroom hours). But you can start a business and then invoice the schools for your hours, as a contractor -- no work permit required!
The process for setting up a business can be complicated but it's not that bad. Maybe I'll write a full article about it sometime!
Have you taught English or any other language in Poland? What was your experience? Do you have any advice for people thinking about doing it?