Heinrich Schliemann: a famous polyglot's method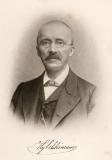 As a language learner, it's always interesting to hear about accomplished polyglots. One such historical figure is a 19th-century German amateur archeologist and businessman by the name of Heinrich Schliemann.
Schliemann learned at least fourteen languages during his lifetime. He claims that (after some time learning languages, of course) he could learn a new language in only six weeks!
So the question is: How could he possibly learn so many languages or learn any language so quickly? And can we learn anything from his method?
(Special thanks to skorway on YouTube - also the author of this guest post - who suggested this topic and did much of the research!)
Read more to learn about Schliemann's language learning method and my thoughts on his techniques!
Language learners aren't just lucky
I've said many times that anyone can learn a language and how fast you learn a language depends on how much time you devote to it.
That said, yes, it appears there are also a few individuals out there who seem to pick up lots of languages, and with great speed. So, should we write off polyglots like Heinrich Schliemann as simply lucky geniuses?
Well, no – not exactly. ;-)
Just like anyone else, Schliemann had what I believe to be the three ingredients to successful language learning: time, motivation and an effective method.
Time + Motivation = Dedication
Though it's possible that Schliemann had above average intelligence, he most definitely had well above average dedication, as he discusses here:
"I applied myself with extraordinary diligence to the study of English… My memory was bad, since from my childhood it had not been exercised upon any object; but I made use of every moment, and even stole time for study. In order to acquire a good pronunciation quickly, I went twice every Sunday to the English church, and repeated to myself in a low voice every word of the clergyman's sermon. I never went on my errands, even in the rain, without having my book in my hand and learning something by heart; and I never waited at the post-office without reading."
As you can see, Schliemann didn't magically begin to speak English – and it appears he wasn't even predisposed to language learning at all! Instead, he dedicated any and all time he had available in order to learn English more quickly than most.
Learning through memorization
Like any devout language learner, Schliemann employed a particular method to successfully learn languages:
"Necessity taught me a method which greatly facilitates the study of the language. This method consists in reading a great deal aloud, without making a translation, taking a lesson every day, constantly writing essays upon subjects of interest, correcting these under the supervision of a teacher, learning them by heart, and repeating in the next lesson what was corrected on the previous day."
So, Schliemann's initial method consisted of reading aloud, working with a native speaker to better learn the language and a lot of rote memorization. These techniques can be used even easier today and all without traveling to the country!
You can get your writing corrected by native speakers using Lang-8. Reading aloud and repeating after the clergyman at mass sounds a lot like shadowing. Memorization is much easier with spaced repetition software like Anki. And, of course, you can find native speakers to talk with over Skype!
Schliemann also incorporated native literature into his language learning efforts, preferring to memorize pages and pages (and pages!) of books, allowing his memory to accumulate massive amounts of detail on grammar and vocabulary, that he could call to reference whenever necessary.
Comparing methods
While I enthusiastically suggest using audio and print books to learn language (I made my biggest progress with Polish by reading and listening to Harry Potter!), my methods do vary from Schliemann's in some ways.
Whereas Schliemann relied heavily on memory recall, I only memorize vocabulary using flashcards, when needed. And, after all, I can't recite Harry Potter word-for-word by any means. But reading and listening to books in Polish definitely allowed me to develop a more natural understanding of the Polish language. Overall, Schliemann's techniques sound very familiar!
Remember, there isn't only ONE right method; it's about finding the method that works for YOU!
See also
What do you think about Schliemann the polyglot and his methods? Leave a comment below!