The first grammar you should learn in Polish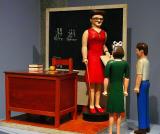 As I've written before, learning Polish shouldn't start with grammar. You should start by doing a lot of listening, learning vocabulary and maybe some speaking (possibly shadowing).
While using these techniques, it's often helpful to have a basic understanding of Polish grammar, so you know what patterns to look for. (See my overview of Polish grammar.)
But, before you focus on grammar, you should first understand some fundamentals of the language. This way, the grammar will make more sense and actually mean something to you.
So now you've reach that point. Congratulations! It's time to start studying Polish grammar. :-)
But there's so much to learn - what should you start with?
Read more for my advice!
Not all grammar is equally important
In a lot of situations, you can ignore the grammar and (if you know the vocabulary), guess the meaning from context.
The same goes for speaking! If you use the wrong grammar, but the right words, the person you are talking with will probably know what you mean.
So, you should start by focusing on the grammar that has the biggest effect on meaning. You can learn the more subtle points later.
Verb conjugations
Verb conjugation is frequently the most important grammatical element in a sentence. It tells you who is doing the action and when.
There's a huge difference between "tym razem zapłacę za piwo, ok?" - This time I'll pay for the beer, ok? and "tym razem zapłacisz za piwo" - This time you'll pay for the beer, ok? :-)
Same goes for "wysłałam pakiet w środę" - I sent the package on Wednesday and "wysyłam pakiet w środę" - I'm sending the package on Wednesday. Although, there are often more clues related to time, for example: in five minutes compared to five minutes ago or już versus jeszcze.
So, verb conjugations should be one of the first things you learn!
However, I don't recommend trying to memorize a whole verb table at once. Begin by combining a few persons (for example: I, you and he/she/it) with a few common verbs in the present tense. Once you get used to the pattern, add more persons. Eventually, you can begin studying the rules for past and future tenses.
But remember: while the rules can be helpful, you will only internalize them through real experience with the language. Simply memorizing them is not enough! But this article is about grammar, so that's for another post! :-)
Not all grammar is equally common
Cases are the element of Polish grammar that usually gets the most attention. (See my overview for a simple explanation of what cases are.)
In total, Polish has seven cases. All of them are necessary to speak Polish 100% grammatically. But not all of them are equally common!
For example, the vocative case ("wołacz" in Polish) is used extremely rarely:
addressing letters ("Drogi Dawidzie" - Dear David)
addressing someone formally ("Panie prezydencie" - Mr. President), and
yelling across the room at your friend ("Hej, Kasiu!" - Hey, Kasia!).
The dative case, while not uncommon, is used almost exclusively with pronouns or people. There are only a handful of verbs that could require it for an inanimate object (ex. "przyjrzeć się").
The accusative case is extremely common because it denotes the object of the verb. But context and word order (which is commonly the same as in English) usually give enough clues, so you can get by without it in most situations!
You will eventually need to learn all the cases. But you should start with the ones that are most commonly used and most important to meaning!
Genitive case
Not only is the genitive case ("dopełniacz" in Polish) the most common, but it also gives the fewest additional clues when used to show possession.
It is used:
to show possession and in "of" constructions: "Matka Uli wyszła" - Ula's mother left or "Prezydent Argentyny przemówił" - The President of Argentina gave a speech
with most prepositions: "od Davida" - from David, "u Davida" - at David's (house), "obok Davida" - next to David, etc.
when a verb is negated or something isn't there: "Nie lubię mleka" - I don't like milk, "Nie ma Kasi" - Kasia isn't here
... and in many other situations.
If you learn only one case, that case should be the genitive!
I recommend using simple exercises with answers to help learn the rules. Seeing the rules isn't as instructive as trying to apply them, then getting correction. You can find these exercises in any Polish textbook.
Again, remember that the rules are just tools! Memorizing the genitive case rules doesn't mean you'll be able to use it correctly in practice. It will take a lot of exposure to the language before you can do that.
What do you think? Is this good advice for someone just starting to study Polish grammar? Do you have any additional advice? Write a comment!