The natives won't speak to me in their language!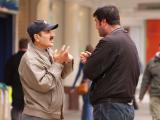 Speaking your target language with native speakers is the ultimate goal of most learners. But what should you do if the people you meet only want to practice your native language?
You're not the only one having this problem! How can you get native speakers to stop speaking Engilsh (or your language) and practice their language with you?
Read more for some tips!
Begin every relationship in your target language
Once a relationship is established in one language, it's extremely hard to change it. Only at the beginning is it really flexible.
For example, I have several friends who are native speakers of Russian. I met some of them before I started learning Russian so our friendships were established in English. Later, it was nearly impossible to "translate" our relationship from English to Russian!
But I met others after I was already pretty good at Russian, so we began the relationship mostly in Russian. Now speaking English with them seems weird and almost silly!
Be confident
Even if you're struggling a bit, act like you are having a great time speaking the target language. If you look like you are suffering, people will switch to English (or whatever your native language is) because they think they are helping you.
So, smile really big and confidently declare every sentence even if it is riddled with obvious errors! :-)
I personally had this problem the first two times I was in Poland. I was trying really hard to do grammar mathematics in head. This looked very painful -- and it was!
Just ask!
If someone switchs to your language, tell them about your problem (in their language!) and ask them to speak your target language. They'll understand.
If it's someone at party and you know you'll be talking for a long time, offer to switch languages in 30 minutes. But speak in your target language first! Odds are, once you're used to speaking it together, you won't actually be able to switch. ;-)
Find a language exchange partner
As I wrote previously, a language exchange is where you meet with a native speaker of your target language, who is also learning your native language. Then you can practice both languages, one at a time. It's also a great way to make new friends!
If all else fails, have some fun!
If you've tried everything and you just can't seem to interact with natives in your target language, it's time for some fun. If they keep trying to speak to you in English, just pretend you don't know what they're talking about! Look confused or make up your own gibberish language. ;-)
NOTE: I've never personally tried this. :-) If you do, let me know how it goes!
The opposite problem
This problem happens more when you're at a beginner level. Eventually, I started having the problem in reverse!
For example: when we were living in Poland and my family came to visit us, we went out to eat a lot in Old Town. All the waiters in Old Town speak good English and even some German, Russian, etc. They would start out speaking to everyone in English but when they found out that I spoke Polish, they would start relaying every communication through me in Polish!
It was very annoying. :-)
How do YOU get native speakers to speak with you in their language? Is it more difficult with with some nationalities? Write a comment below!