American Stereotypes: Americans are workaholics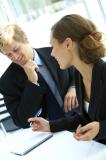 This is the first installment in a new series of articles called "American Stereotypes," which explores stereotypes about Americans. Today's topic is: Americans are workaholics.
A workaholic is a person so obsessed with working and earning money that they often forget to enjoy life. Are Americans workaholics?
More often than we'd like to admit, there's some truth to many stereotypes. In this case, there are even statistics to back it up! But I think the reality of the situation often falls somewhere between the stereotype and the true human experience.
Read more to find out about this common stereotype!
European lifestyle vs. American lifestyle
Europeans are said to have a "lifestyle-oriented" existence. Most European countries value and enjoy extended lunch breaks, where food, family and friends are enjoyed for an hour or more in the middle of the day.
Americans, on the other hand, often eat lunch at their desks and hope to return home to their families in time for dinner!
In several European countries (including Italy, France, Great Britain and Germany) workers enjoy between 28 and 42 vacation days every year, on average. According to the same chart (from 2007), Americans only received 13 days of vacation per year, on average. That's a big difference!
(Here is another great chart comparing the minimum vacation days for several countries. But it's not a great comparison for the USA, because we have no legal minimum.)
The "truth" behind the stereotype
If you're a European, and you hear that the average American gets only 13 vacation days per year, you might think, "Wow, those American companies don't treat their workers very well!"
But consider this: last year, only 38% of Americans used up their vacation days. In fact, the average American received 18 days of vacation (in 2010), but only took 14 days! Why would that be?
In a variety of studies, American workers consistently logged more working hours per capita than any other industrialized nation in the world, including the Japanese - another country known for overworking.
Sounds awful, right? Well, it's not so bad - really! :-)
Freedom and satisfaction
The truth is, a great deal of Americans are very proud of the work they do and the hours they put in. Many Americans work long hours because they gain unsurpassed job satisfaction, even when compared to similar nations.
Personally, I'm self-employed. This means I get to be my own boss and pursue the work I truly love to do! Yes, I work a lot (70+ hours a week). But when you are afforded those freedoms, work seems a lot less like, well, work! And of course, not everyone works that much. :-)
Plus, it's not like we never take vacations! And perhaps it's even possible that we enjoy them more! ;-)
Are Americans really workaholics? Is working a lot unhealthy? Even if it's fun and fulfilling? What do you think? Leave a comment below!