Learn Polish in Poland: Lengua Viva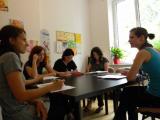 I strongly believe that you don't need to live in a foreign country to learn its language. Personally, I learned Polish primarily in my home country.
You can even learn a lot about a foreign culture from your home country. You can read the literature, watch the films, and even speak with the natives.
However, to experience certain aspects of any culture, you simply have to visit the country!
This article is about Lengua Viva, a language school in Gdańsk, Poland which offers courses in Polish as a foreign language. Plus, they've offered a special price for readers of LinguaTrek!
(Full disclosure: I have never been to Lengua Viva, so I can't personally vouch for the quality of their courses. I agreed to promote their school in exchange for a special reduced price for LinguaTrek readers. I don't personally receive any money or anything else from them.)
Read more for information about the courses!
Sussy Antczak
The owner of the school is Sussy Antczak, a foreigner herself. She moved to Poland from Lima, Peru in August 2008 to be with her husband.
She worked in several language schools before deciding to open her own in December of 2010.
I asked her about her personal experiences learning Polish:
I was lucky to have such a great teacher in Lima, Peru. She was Polish and has lived in Peru for 30 years.

For 2 months I had an intensive course 3 times a week for 2 hours.

I thought that it would be enough. I thought that when I arrived to Poland, I would be able to speak and understand people without any problem... hahaha. Even though she taught me very well, and I had a very solid base in the language, the first few months, I was a little bit lost.

It was then that I realized that sitting inside of a classroom taking a regular course (writing, speaking, listening, and reading) is not enough for me to have all the necessary skills in the target language.

Now, after 3 years, people tell me that I speak Polish very well, but I am not satisfied with my level.
The school
Lengua Viva means "living language" in Spanish. They offer courses in 17 different languages (including Polish for foreigners), 11 of which are taught by native speakers.
You can find some great pictures of the school and the courses in progress on their website, as well as pictures and videos of all their teachers.
One of the most unique aspects of the school is that they have a classroom dedicated cooking, so that students can really experience the culture, while also learning the language.
Sussy says:
Our concept is to focus on immersing the student in passion for the language you are learning, i.e. knowing more about the country's culture, food, customs, people, etc.
Polish for foreigners
Polish is known for its rich grammatical system. I asked Sussy how it's handled in her school:
It depends on the student or group of students. Of course, we do use a course book and we do follow it.

But the big difference is that you cannot be expected to become a language expert after only a classic language course.

It's necessary to experience the adventure of traveling through the language and getting to know the culture, listening to people talk in their natural environment, tasting the cuisine and learning the customs.
The Polish as a foreign language course costs 749 PLN, which includes the course book, or 699 PLN for university students.
But readers of LinguaTrek will get a discount of 80 PLN on the course and a 10% discount at their bookstore, where you can buy other language books, dictionaries and phrase books. Just tell them that you heard of Lengua Viva on LinguaTrek.com!
So if you decide to travel to Poland to study Polish, consider Gdańsk and consider Lengua Viva! If you would like to share your experiences with Lengua Viva, please comment below!