Language learning guide?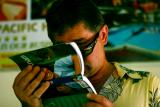 I receive a lot of emails and comments asking me for advice on language learning. I respond to all of them, so when I notice that I've answered the same question a lot, I try to write an article about it on my blog.
That way, when someone asks me that question again, I can point them to a well-polished article, instead of having to come up with a completely new explanation in the 5 minutes I have to respond to their email.
The article I wrote a couple weeks ago about the importance of listening is one example. However, I got some really great questions in the comments which helped me realize that I left out a very important piece: how to listen, when you don't yet speak the language very well.
Eventually, this will end up becoming a new article.
But wouldn't it be great if I could just have a page somewhere that includes all of my thoughts about listening? As new questions or ideas come up, I could continue to refine it.
This got me thinking that maybe I should be compiling a language learning guide, that covers my opinions about how to learn a language effectively, lots of tips, and the basics of my method.
Read more for my thoughts and let me know what you think!
Should I write a guide?
Don't worry, this isn't a money-making scheme!
I have no intention of selling an ebook like Benny the Irish Polyglot's Language Hacking Guide. For one, I'm not enough of an expert (yet). Speaking English, Polish and some bad Russian doesn't quite qualify me as a polyglot. ;-)
Instead, I imagine that this would be pages on my blog or in the Bibliobird Wiki. I like the idea of putting it in a wiki because then other people could share their ideas too! But I'm still undecided.
The main question is: should I even bother?
Proposed table of contents
If I were to start writing the guide today, here is what the table of contents would look like:
You don't need talent to learn a language (video in Polish)
The three ingredients of successful language learning

Overview: Time, motivation, effective method
Time (it's about regularity!)
Motivation
Fear and confidence are also big factors!

What makes an effective method?

Overview: There isn't only one correct method (in fact, almost anything will work, eventually), but a set of characteristics that will make a method more effective.
Communication leads, grammar/vocabulary follow
Do what you love, but in the language you are learning
Focus on vocabulary
Input vs. output
Repetition
... remaining characteristics ...

Examples of effective methods from successful learners

My method in detail
... maybe I can get others to contribute their stories?

Tips for absolute beginners
Tips for listening
Tips for reading
Tips for speaking
Tips for writing
Tips for vocabulary
Tips for grammar
Proposed introduction
There are many great reasons to learn a foreign language:

Find a better job
Travel to another land
Explore a culture by trying to see through their eyes
Learn the native language of your significant other
Get in touch with your roots
Or just for the fun of it! :-)

But whatever reason you have for starting to learn a foreign language, the sad truth is that most people fail before they reach their goal.

The most commonly cited reason is: "I don't have a talent for languages."

However, the truth is that talent has nothing to do with it. The truth is that most people don't understand how to learn a language or the true mechanisms behind the process.

This guide is written by someone who has failed to learn many languages. I studied Spanish in grade school and high school for a total of six years and learned practically nothing. Later, I took a French course for a year and came out similarly empty handed. In college I studied Russian for three years and, while I made more progress, I still couldn't carry on a basic conversation in the language.

Five years ago I started learning Polish, also in a university-level class. While the course was very enjoyable (like the Russian course before it), I found myself able to easily pass a grammar test but I couldn't order at a restaurant or survive the post office.

That's when I decided to take an entirely different approach to language learning. In only a year or two I was able to reach a level of proficiency with my Polish that I've never achieved with any other language. I'm able to read popular books, the newspaper, listen to the radio, watch movies, as well as have conversations on almost any topic.

Was I finally successful because I have a "talent for language?"

I'm still the same person who failed to learn Spanish, French and Russian. If I had had a special talent, wouldn't I have learned those languages as well?

Successfully learning a language is not about talent. It's easier for the small number of people with a talent for it - but it's possible for anyone.

My goal with this guide is to help you to succeed!
What do you think?
Before I take this idea any further, I want to know what you think!
Should I create this guide? Would it be useful to you?
What do you think of the table of contents? Or the introduction?
Please leave a comment below!