The Importance of Listening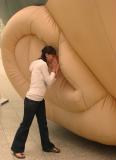 I receive many questions from people looking for advice on how to use the method I used to learn Polish in their own language studies.
The main misconception is that reading (with your eyes) is enough. This is partly my fault, since I think of listening to a book or text to still be "reading," so I've used that word to describe both activities.
But listening is not just as important as reading - listening is even more important!
If possible (especially when beginning to learn a language) you should spend significantly more time listening than reading.
Read more to find out why!
Pronunciation
One of the most common questions I get looks something like this:
I'm reading this book in English and it's going well. But I'm worried that I'll pronounce the words I'm learning incorrectly. What should I do?
This is a very real risk, but the answer is obvious: you shouldn't only be reading, you should be listening too!
This is especially important when you first start learning. Once you've reached an advanced level, it's much less important. By that point you will have a developed a pretty good sense for how to pronounce words from their spelling.
At least as good as the average native speaker, that is. For languages where the spelling isn't very strongly bound to the pronunciation (for example, English), even native speakers will struggle with some words.
The writing system isn't the language!
Some languages have multiple writing systems. For example, Japanese has three: Kanji, Hiragana and Katakana. There is even a fourth script, Romaji, which is largely used by students learning Japanese.
Many words in Japanese can be written in all four scripts. But if you take away the writing system, Japanese is still the same language.
Language has existed long before any writing system. (And some still don't have one!)
A language is both more and less than its writing system. If you find yourself completely dependent on the written word, you don't really know the language.
Listening is the natural way
You learned your first language by listening. I personally didn't start learning to read until I was 6 years old and in 1st grade, at which point I already spoke fluent English. Children continue learning to read until around age 10.
I know that learning styles are very popular in education. Some people identify themselves as primarily visual, auditory or tactile learners.
However, language is auditory! Our brains are designed to naturally learn languages the way we did with our first language: by listening.
Even if you consider yourself a visual learner and enjoy listening less than reading - your brain needs to listen in order to fully learn a language!
(Note: of course, this statement doesn't apply to sign language, which is visual by nature. But the same logic applies: to learn a sign language you must actually watch someone sign - not just look at pictures of signs in a book.)
What do you think? Do you spend more time listening or reading? Why? Could someone learn a language by only reading and not listening? Please leave a comment below!