How to become a self-directed language learner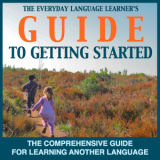 Most people associate language learning with school and a classroom and - above all - with a teacher.
When you're taking a traditional course, the teacher guides you through the language: "Today, we're going to work on the past tense. Next week, there is going to be a test. You need to work on your pronunciation of the th sound."
The student is passive and just along for the ride. This can be both good and bad.
On the positive side, everything is planned for you - you don't need to worry about finding good resources. You also have a great source of advice and feedback.
But on the negative side:
The topics might not be connected with your personal needs and interests - it could be boring
The course might move too quickly or too slowly
There tends to be too much focus on what is easy to test or evaluate, i.e. grammar
And let's face it: some people just don't learn well in classrooms! A few might excel in this environment, but the rest learn better from experience and self-guided exploration.
But how do you get started as a self-directed language learner?
Today I'm going to review The Everyday Language Learner's Guide to Getting Started. It's a cheap ($8) e-book that can guide you from not knowing how to start to being a totally self-sufficient language learner.
(Full disclosure: While I did receive a free copy of the e-book to review, I don't receive any money if you decide to purchase it.)
Read more for the full review!
Aaron Myers
Aaron Myers is the author of The Everyday Language Learner (blog), a number of language learning guides (including the one I am reviewing today), a site to help Turkish speakers learn English, and more.
You may recognize him - he is an avid reader of LinguaTrek and has commented a number of times. I also read his blog and respect Aaron a lot.
We share a lot of the same views on language learning and have emailed from time to time. Last week we talked for 90 minutes on Skype about our experiences with language learning and he told me about this e-book.
Aaron is an American who has been living in Istanbul, Turkey for the last four years with his wife and two children.
About two months before leaving the USA, they took a two-week course on how to learn a language and purchased Rosetta Stone. The entire family set out on the same language learning journey together and they were ultimately successful.
You can find his e-book Sustaining: Your guide to sticking with it for FREE. There's even a Polish translation!
What's in the guide?
The guide itself is 103 pages long and consists of 7 chapters with a long resources section at the end.
You can also buy the guide in audiobook format ($4) or the "first class" version ($20) which includes the audiobook, one of Aaron's other guides (The Guide to Self-Assessment), three audio interviews with other language learners, and a set of 20 audio lessons to expand on the ideas discussed in the guide.
It includes two worksheets. The first will help you identify (1) your ultimate language learning goals, (2) where you are right now, and (3) how to find the resources to get where you want to be. The second worksheet helps you plan your weekly self-directed study.
The guide starts with a description of Aaron's language learning history - which has a lot of parallels to my own! He studied German in school and achieved little. Then he spent many years learning Spanish and reached a decent proficiency level. Finally, after re-evaluating everything when he began learning Turkish, he eventually attained a high level of success with that language.
Aaron then walks you through the basics of how to plan your language learning journey (using the worksheets). He then dives into what he calls the 3 principles for language learning, which can be used to maximize the effectiveness of any method. And finally, he offers some practical tips and examples of actually using those principles.
My review
While I was reading this e-book, I was constantly struck by the similarity between Aaron's views on language learning and my own. I kept thinking to myself, "Yeah, right on!"
Throughout out the text, Aaron makes great use of stories, analogies and drawings to help clearly convey his ideas. I like the step-by-step approach and the use of worksheets. Not to mention the resources section at the end, which covers pretty much every language learning resource I know about on the internet and then some. :-)
If you want to become a self-directed language learner, but your only prior experience was in a classroom environment with the help of a teacher, and you don't know where to start - this guide is perfect for you!
One thing I really love about this e-book is that it isn't for language learning enthusiasts like Aaron and me. We both love learning languages and would do it just because it's fun for us. ;-) But the guide is targeted at normal people who are primarily interested in their individual language learning goals (for travel, getting a job, etc).
From this e-book and our conversation last week, Aaron also introduced me to a concept that was completely new to me: a language helper. A language helper is not a teacher and is not a casual conversation partner. Instead, a language helper is a native speaker who you draw the language from. See this post on Aaron's blog for more information. I might write a full post about this in the future!
I learned a number of great things from this e-book that will definitely contribute to my language learning. And I know you would learn a lot too! Click here to learn more.