Subscribe and get a gift!
Hello, everyone!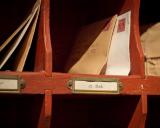 Today I'm publishing a sort of unusual article. It's NOT about our normal topics of language learning or Polish and American culture and history.
But don't worry! We'll return to those soon. :-)
I just wanted to thank everyone for reading my articles, watching my videos and above all, participating in the discussion by sending e-mails and leaving comments.
In the year or so my blog has been up, there have been over 1,100 comments and hundreds of e-mails! That's not to mention the over 3,300 YouTube comments during the same time period. If it weren't for your help and enthusiasm, I would have given up on this long ago.
So, THANK YOU for your support!
In the next few weeks, I'm going to share some plans and ideas connected with language learning that I'm really, really excited about! And, like always, I'm going to need your help!
I don't want you to miss anything, so I added an e-mail subscription form to LinguaTrek.com. If you want to get my articles as soon as they're published, please subscribe!
In order to encourage you to sign up, I'm going to offer a free gift to the first 30 subscribers!
Read more for information about the gift!
Free gift!
The first 30 subscribers will receive a free 15-minute language learning consultation with me over Skype.
Tell me about your problems learning English, Polish or any other language, and I'll give you personal advice for your situation! I'm happy to speak with you in either English or Polish.
I know 15 minutes sounds short. But 30 consultations will take me almost 8 hours!
What's coming next is so important to me, that I'm willing to give up a day of my time, so that you won't miss it!
Great things are coming!
Recently I've done a lot of soul searching and talking with my readers, viewers and users. Now I've got some really exciting things I want to share with you!
But I don't want to say too much yet. :-) I'm still getting my thoughts organized and I'm not quite ready.
First, I'd like to get my most dedicated blog readers and YouTube viewers to subscribe so that they don't miss it (I'm going to record a similar YouTube video in Polish in a couple days).
So, please subscribe!