British vs. American English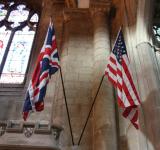 I frequently receive emails or comments like:
I just started learning English but it's British English. Will I have trouble communicating with someone from the USA? Can you easily understand British people? What is the difference between American and British English?
It's true that there are lots of dialects (I wrote about my dialect a while back), accents and other variations of English (ex. creoles, such as Jamaican).
But is the variation of English that you learn important?
Read more for my response!
British vs. American English
There are a few differences in grammar and vocabulary between British and American English.
For example, the 2nd and 3rd form of verbs are sometimes different: "learned" (American) vs. "learnt" (British). Or, "I've finally gotten over my cold" (American) vs. "I have finally got..." (British).
The differences in vocabulary can sometimes be very funny! A friend of mine moved from Ireland to the USA to go to University. One day she needed to erase something, but she didn't have an eraser. So, she asked everyone in her class if she "could borrow a rubber." No one would respond, they just ignored her!
Only later did she find out that rubber in American English is slang for condom. :-)
But overall, these types of differences are really small - the biggest difference is in pronunciation!
Can you understand British people?
The short answer: sometimes. ;-)
In the States, we have 2-8 major dialects, depending on how you count them. They are relatively similar to each other.
On the other hand, there are anywhere from forty three to "hundreds" of different English dialects on the British Isles, depending on who you ask. And they vary wildly!
I've only had the opportunity to hear a few of them, mostly in movies. Some of them are easy for me to understand and some are impossible without subtitles.
In 2004, I went to Ireland for a month. At first I had a lot of trouble understanding most people. But, after a week, I got used to it and didn't have any problems.
Does it matter which one I learn?
Like I said, vocabulary and grammar don't differ much. The only difference that really matters is pronunciation.
Your pronunciation is more likely to be influenced by your native language, rather than the version of English you are learning. That said, I have met a few non-native speakers who have lovely American or British accents! :-)
The biggest problem for you will be understanding speakers of a version of English that you're not used to hearing.
If you've only had experience listening to British speakers, it may be a little difficult for you to understand Americans, or vice versa. But, just like my experience in Ireland, it only takes some consistent exposure to another dialect before you'll begin to understand it.
I'd recommend that you pick one dialect to start with and only listen to material in that dialect. Once your level is higher (upper intermediate or advanced), pick a different dialect and listen to material only in that dialect for a month. You will quickly become proficient in that dialect as well!
Repeat this process for a few major variations and you'll likely even be able to deal with a few versions you've never heard before.
What's your experience with the different dialects of English? What about other languages? Please write a comment below!