I'm writing the free ebook (and an Easter miracle!)
Note: This article is a follow-up to this article from 2012-04-06.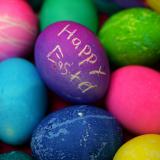 In my last blog post (published on Good Friday), I told you about the free ebook I was thinking about writing, and I asked you to fill out a survey telling me if you wanted it.
I said that if 300 people wanted the ebook, then I would write it.
By around noon on Easter Sunday we just barely topped 300 people! And I was very happy. :-) But then, right before we were about to leave to celebrate Easter with my folks, something AMAZING happened!
My Polish video about this ebook appeared on the front page of Wykop.pl (the Polish equivalent of Digg.com)!
Later that evening (when we got home) I checked the numbers again. Hundreds of new people signed up for the free ebook! In total, almost 1400 people have said they want to receive it when it's finished.
I kept telling Carrie (my wife) that it was an Easter miracle! A miracle that could only have happened with the magic of Wykop! :-)
Thank you so much to everyone who signed up and thank you to everyone who voted on Wykop.
Read more for a short note about what's coming next!
What next?
I'm absolutely thrilled that so many people want to read the ebook - and now it's time to get to work!
It's going to be a short guide (around 40 pages) about learning a language naturally (without a teacher). I'm aiming to finish the English version in about 2 weeks. The Polish translation will follow in a few days.
Because this will require so much of my time, I probably won't be publishing any other articles or videos in meantime, but maybe I'll share some excerpts from the ebook (or maybe I'll have some more questions for you).
As soon as it's finished I'm going to send it out via email to all the subscribers on my blog! (Including those who filled out the survey.)
If you want to receive the ebook when it's finished, but aren't yet a subscriber, please subscribe now!