3 super simple "speaking strategies"
In the introduction to my FREE ebook, I talked about the three steps to speaking a language "fluently" (although, I'm not fond of this word!): (1) get the language in your brain, (2) overcome your fear of speaking and (3) practice speaking. (Like I mentioned in the ebook, these steps can be done simultaneously)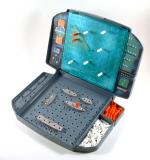 Because the ebook discusses only the first of those steps, I've decided that I'm going to spend some time on my blog covering the next two. Today, I'm going to talk about #3: practicing speaking.
In this step, the goal is to develop and practice "speaking strategies" like circumlocution (for when you don't know a word), various conversational phrases to keep things flowing and even non-verbal tricks to make people more comfortable when speaking with you.
Silence is the one of the most uncomfortable things that can happen in a conversation, both for you and your speaking partner.
As a learner you might sometimes need a little extra time to process what you've heard or to form your response. But if the train conductor says, "Could you show me your ticket?" and you stare at them for 15 seconds without saying anything, it could get pretty awkward. :-)
In this article, I'm going to describe 3 super simple speaking strategies to avoid silence!
Read more learn what they are!
I'm sorry?
One strategy that I personally use in Polish is to say, "Prosze?" as if I had trouble hearing them or wasn't paying attention. It's an invitation for the other person to repeat what they just said but maybe louder.
In English, here are some common phrases to do the same:
I'm sorry?
Excuse me?
What was that?
This will give you the opportunity to think and even hear what they said again - WITHOUT awkwardly explaining your situation, like this: "I'm sorry, I don't understand. Could you please repeat?" You can accomplish the same thing in two or three words and appear totally natural.
I've actually gotten to the point where doing this is such a habit, that I have a tendency just to say "Proszę?" after the first sentence anyone says to me. :-)
Stall 'em!
In normal conversations in your native language, you don't always respond immediately. Sometimes you have to think about the answer. But you don't just stop talking!
There are a couple good phrases to let the person know that you've understood them and are working on a response, for example:
Let me think
That's a good question
Well ...
Saying one of these phrases will buy you 2-10 seconds to think.
Get some good phrases from a native speaker of the language you are learning, and practice saying one of them before responding. It can be helpful to know several, because you might want to do this more than once in the same conversation! :-)
Filler words
I was a little reluctant to suggest this, because once you start using filler words, it can be very difficult to stop.
We all know people in our native language that overuse filler words, such as "you know" or "like" - saying them between every two or three words. It's a slippery slope, so be careful!
However, if you have to pause for 2-3 seconds in the middle of a sentence, saying anything is better than saying nothing. Compare, "I like ... (2 second pause) ... going out on Fridays," with, "I like, you know, going out on Fridays."
I think it's better to use full words than filler sounds like "ah" or "um" because those can make it seem like you are struggling. You don't want the conversation to seem difficult for you - that could make the other person uncomfortable. But even filler sounds are better than nothing!
Here are some more examples in English:
well
so
basically
actually
ok
right
What do you think of these speaking strategies? Have you used any of them? Do you have your own strategies for avoiding silence? Please leave a comment below!