"Czytamy w oryginale - wielkie powieści" - great material for learners of English or Polish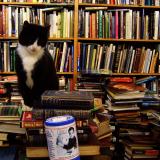 (If you haven't voted for LinguaTrek yet in the "Top 100 Language Learner Blogs" contest, only two days remain! The voting last until May 28th at 5:00pm CST (or midnight Polish time). If you have a free minute, please vote!)
Wojtek - a reader of my blog who regularly comments - just sent me an e-mail about a very interesting product which matches the learning methods I describe in my ebook very well!
Wojtek writes: (translated from Polish - see the original here)
I'd like to inform you about some excellent materials for learners of English and even those wanting to learn Polish.

"Czytamy w oryginale – wielkie powieści" ("We're reading in the original - great novels") it is a recently republished series of simplified novels (graded readers) for learners of English. So far 2 parts have been published - in total 10 classic stories. Today I just received my copies in the mail. The price for one part is 19.99 PLN (around $6).

They're intended for intermediate learners but thanks to the fact that on one side we have the text in English and on the other in Polish - even beginners will be able to find their feet!

What's more: you can buy the audio and a workbook seperately. The audio version is read by a professional British voice actor and is done at the highest quality! Simon Messing - because he is the voice actor - is the greatest pleasure to listen to!

Because this is a republished series, you can expect that at least two more parts will appear because originally 19 little books were published. The audio version normally doesn't last longer than an hour so it's just right!

You can find more information here:

http://sklep.rp.pl/produkt/czytamy-w-oryginale___.php
(the books can be purchased in many bookstores in Poland)

Regards,
Your faithful reader,
Wojtek :)
Czy znasz te książki albo podobne? Jakie było Twoje doświadczenie? Napisz komentarz!