Natural Language Learning (my FREE ebook) is finished!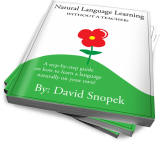 After three weeks of intense work since I announced that I would create it, I've finally finished the English version of my FREE ebook on language learning, called: Natural Language Learning (Without a Teacher!)
It ended up being 104 pages in PDF format - a little bit longer than my guess of 40 pages. ;-) The ebook consists of 13 chapters in two parts (a theory part and a practical part) as well as 4 worksheets to help you create the perfect language learning method for you!
Check out this article for more information about what's in the ebook, as well as these two excerpts: Planning your daily routine and 3 steps to speaking a language fluently.
The theory part consists mainly of rewritten material that I've previously published on my blog. But almost all of the practical part is completely new!
As a software developer, I never really imagined that I'd end up doing this much writing, let alone writing a whole ebook. :-) While it was definitely harder than I expected it was also much more enjoyable. I can't wait to hear what you think!
Read more to find out how to get it and what's next!
How to get it?
It's only available to subscribers of LinguaTrek, so if you haven't subscribed please do so here! Of course, subscribing is completely free! You will receive instructions via email about how to download the ebook.
If you are already a subscriber, these instructions are waiting for you in your inbox!
What's next?
I want to finish translating the ebook into Polish as soon as possible. If you are interested in helping with the translation effort, please send me an email! I'll be working on this over the weekend.
I also plan to have EPUB and MOBI versions - for mobile ebook readers like the Kindle - ready soon. If you have an ebook reader and want to help test that my files work, please send me an email!
I hope you enjoy the ebook and find it helpful on your language learning journey! Please let me know what you think in the comments below!