The topic of our paid product (the presale starts in a couple days!)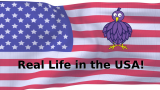 Two weeks ago I told you about our idea for a paid language learning product. There was a survey about the price and format for this product. A few hundred people filled out the form - thanks so much!
Last week I told the results of the survey and asked for ideas for the topic of the product.
Today I'm just going to give you a short note with the topic we decided on and let you know that the presale is going to start on Monday, June 25th! The topic is going to be "Real Life in the USA":
There will be texts (and films with transcripts!) about many aspects of life in the USA, for example: work, fun and sport, and other daily activities.
There will be normal articles as well as stories and dialogs!
Some of the materials will be taken directly from real conversations with native speakers.
We'll also talk about immigration, stereotypes and music.
Everything will be in English, with native speakers and prepared to be read, watched and listened to on Bibliobird!
I will publish more information on Monday! Thanks in advance for your support!