Are you getting too many e-mails from me? New subscriber options!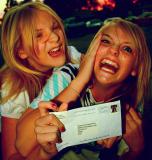 It's recently come to my attention that many people feel that I'm sending too many e-mails to subscribers of this blog. Up until now, an e-mail would get sent for every article I write, on the day I write it.
This became particularly apparent during the presale because many people are only interested in language learning advice and cultural information - not Bibliobird, the presale, or other "personal" articles.
(BTW, the presale's going great! I haven't written anything about it recently because I needed to solve this problem first. I'll write something in a few days after people have a chance to update their subscriber options.)
So, I'm adding new subscriber options, which will allow you to:
Only receive e-mails for articles that have to do with language learning or cultural information.
Receive only a weekly digest of articles - rather than getting an e-mail for every article I write. I tend to write 1-2 articles a week.
If you are a subscriber of this blog and wish to change your options, click here and enter your e-mail address.
It is not my intention to send spam! If you're a subscriber and you're no longer interested in my blog, you can use this link to unsubscribe. If you have any problems, you can reply to any of the e-mails I've sent you or use the contact form and I'll help you.
Thanks and sorry for the inconvenience!