How to start a language exchange on the right foot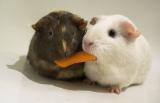 Nothing can replace speaking your target language with a native speaker. A "language exchange" (sometimes called "tandem") is a great way to practice with a native speaker who is also learning your native language.
During each meeting with your language exchange partner, you take turns speaking both languages. Unlike classes or working with a teacher, the meetings are friendly, informal and (because they are mutually beneficial to you both) absolutely free. ;-)
Don't worry: you don't need to live near native speakers or in the country where the language is spoken!
As I've written before, you can do a language exchange both in person or over the internet.
I recently received this question via the contact form:
I've been studying Polish for about a year now and just took the step of reaching out to a Polish speaker on the Language|Exchange Project. I'm a little nervous about it, but I figured it will only help me get better. I was wondering if you had any advice on how to get the most out of the exchange.
Great question!
I've been doing language exchanges for several years (with both Polish and Russian) and I've definitely had my share of bad experiences. Through trial and error, I've come up with some ways to make my language exchanges as effective as possible. In this article, I give a few tips to help you avoid some common pitfalls.
Read more for four tips on starting a new language exchange!
1. Establish the rules immediately
From the first meeting, or ideally before the first meeting, decide what the rules are for each meeting.
A typical format is:
60 minute meetings
For the first 50% you speak one language, then switch for the second half
Every meeting, alternative which language you start with
But I've heard about (and tried!) lots of other formats. For example, if you have trouble quickly switching languages, you can alternate the language per meeting. Some people even prefer speaking both languages simultaneously! In that format, you only speak the language you are learning but hear your partner's responses in your native language. :-)
There are several other important questions to answer as well:
How will corrections be handled? Do you want to be interrupted and corrected immediately? Or do you prefer your partner to write them down and tell you later? Personally, I hate being interrupted for corrections. ;-) But it's just personal preference. Your partner might want the opposite of what you want!
What kind of conversation will you have? Is it just a casual chat? Or will there be a topic prepared in advance? Will you bring some discussion points or a game?
Since everyone will have different needs and preferences, it's very important to settle this as early as possible. It can be very hard to change later - especially, if it turns out that your partner is unwilling to do the thing you want!
2. Stick to the rules!
It's really important to stick to the rules once you've established them!
The two most important rules from my experience are: (a) sticking to the agreed upon language for this part of the meeting and (b) switching the language at the appropriate time.
If you're supposed to switch after 30 minutes, switch immediately after 30 minutes! If you let it go because your partner is in the middle of a long thought, that thought might not finish for another 20 minutes. :-) And now you only get 10 minutes to practice!
Or if this 30 minutes is supposed to be for Polish, stick to Polish! Some people have a bad habit of switching languages when their partner doesn't respond quickly enough or seems to be having trouble. Remind them of the rules or you might end up spending too little time on your target language.
If you don't enforce the rules from day one, it'll be very hard to start enforcing them later once you've settled into a pattern for your meetings.
3. Find the right partner
My first couple experiences with language exchange were actually pretty bad. :-) It wasn't until I found a good language exchange partner that it started being a useful language learning tool.
Finding a good partner is a lot like finding a good friend - but actually even harder! Not only do you need have common interests and compatible personalities, but they also need to have a similar language ability and plenty of patience. You can have a good friend who's impatient - it's much harder to have an impatient language exchange partner. ;-)
If you have one or two meetings with someone and it doesn't seem to be working out: move on!
I've tried something like 30 different partners but only had about 6 really good ones that I continued to have productive meetings with over a long period of time. It might take you a few tries to find the right partner.
4. Stay away from grammar
As a rule, native speakers don't know much about their own grammar.
There are definitely exceptions! But most people only know what sounds right. So, it's fine to ask things like: "Is this right? How do you say it correctly?"
But they probably won't know why something is right or wrong. For that, you'll need to ask a language teacher or look in a textbook.
What do you think? What kind of experience have you had with language exchange? Do you have any tips to add? Write a comment below!