How to find a language exchange partner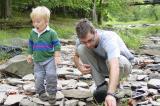 Two weeks ago I gave some tips for starting a language exchange.
Language exchange is where you communicate (either in person or over the internet) with a native speaker of the language you are learning, who is also learning your native language.
In the comments, someone wrote (translated from Polish):
It's easy to look for more language exchange partners if your native language is English. After all, the whole world is learning that language. What to do if no one wants to learn Polish (ed: this commenter's native language is Polish). I don't think I'd find even one Swede who wanted to learn Polish.
I've heard this opinion expressed many times before - basically every time I bring up language exchange.
I agree it's harder if your native language is less popular. But it's definitely still possible to find someone online!
Read more for three tips on how to find a language exchange partner online!
Language exchange websites
There are many websites to help connect people for language exchange. Although most allow you to search for speakers of any language, each has a different mix of languages and nationalities.
For example, Language|Exchange Project has mostly Polish native speakers and Lang-8 has mostly English, Japanese and Russian native speakers.
So, it's worth checking several different sites to see if native speakers of the language you're learning use it.
Here are some of the sites I know:
There are many more!
Online communities
Language exchange has been around for a long time but most people (even those learning foreign languages) still haven't heard of it. So, if you can't find anyone on a language exchange website, you might have to be more creative.
Ask yourself: What kind of online communities or groups would people interested in your native language belong to?
For example, if you are Polish and you want to learn English, I have a surprise for you: many Americans with Polish ancestry are interested in learning Polish. Where can you find them? In Polish-American organizations and communities - most of which have an online presence!
There are also forums and groups on social networks (like Facebook, LinkedIn, etc) for people interested in just about any language.
Sticking with this example of a Pole learning English, you could try:
Once you start looking, I'm sure you'll find many more!
You can join any of those online communities, introduce yourself and ask if anyone would be interested in a language exchange!
Craigslist, Gumtree and similar
If someone was interested in learning your native language, where would they look for help? Probably in the classifieds!
In every country, there is a popular website for doing online classified ads. In the USA, that's Craigslist and in most of Europe that's Gumtree.
Pick a city in the country where the language you're learning is spoken that's either (1) very big or (2) has lots of people interested in your native language (for example, there are lots of people in Milwaukee or Chicago who are interested in Polish) and write an ad looking for someone to do an online language exchange!
Have you tried these tips? How did it go? Do you have any tips? Are you still having trouble finding a language exchange partner? Write a comment below!