Speaking strategies: Respond to everything!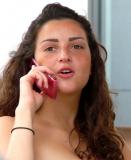 In the introduction to my FREE ebook, I mention that developing speaking strategies is a very important step in reaching "fluency" (although, I'm not fond of that word!) in a foreign language.
But unfortunately, this wasn't the topic of the ebook so I didn't discuss it then - which is why I'm trying to focus on it on my blog now (see previous articles).
Some situations are more difficult to speak in than others!
Two of the most difficult are:
Over the telephone, and
In group of native speakers.
Even though I've been learning Polish for over 5 years, I still personally have trouble in both of these situations. But the strategy I'm going to give you today helps tremendously!
Read more to find out what it is!
Over the telephone
Speaking over the telephone is one of the few situations where I still experience a fear of speaking.
It's not strong enough that I'll avoid making the call (lately I've had to call a couple banks in Poland in preparation for our paid product for Bibliobird) but I get pretty anxious before and during.
This stems from the fact that it's more difficult than speaking in person for a couple reasons:
You can't see facial cues or hand gestures. Humans are surprisingly dependent on body language. According to some studies, 60-70% of all meaning is derived from nonverbal communication. And non-native speakers rely on it more than natives!
The conversation can move too quickly. You are also sending nonverbal cues about whether you've understood or not. In a real world meeting the other person would slow down or wait if they sensed that you don't understand. However, over the telephone, they just keep on going to the next point.
In a group of native speakers
Getting to the point where you can discuss any topic in a one-on-one meeting with a native speaker is a major accomplishment. But doing the same with a group of native speakers is much harder!
The topic can change too quickly. As a non-native speaker you understand and speak slightly slower than a native speaker. By the time you've come up with something to say about the current topic, sometimes the conversation has already moved on to something else!
It's more difficult to ask for an explanation. With the speed of the conversation it can also be more difficult to ask for an explanation of something you didn't understand.
The language is NOT geared to you. In a one-on-one dialog, the other person will naturally (probably without even realizing it consciously) simplify their language for you. In a group of native speakers, this is not the case!
What should I do?
Here is my advice to solve all these problems: Respond to everything!
This means immediately say "Uh huh" or "OK" if you understand and ask right away if you don't. Interrupt, be annoying and, no matter what, don't disengage from the conversation!
Once you disengage, the conversation just starts flying by you and it's very difficult to re-engage. I remember my first few phone conversations coming to an end and wishing I could just start over. :-)
The same goes for talking with a group of native speakers. Try to respond in some way to everything everyone says! Be the center of attention.
This will definitely be harder if you are normally more reserved. I'm a listener by nature, so it was an adjustment for me at first.
But it's much better than getting lost and being unable to jump back in. If you remain disengaged, eventually, people will forget that you are there and just start to ignore you. Make yourself ever present and impossible to ignore!
Do you have trouble talking on the phone or with a group of native speakers? Do you have any advice that worked for you? Write a comment below!