How to learn technical (or any specialized) language?
(Don't worry, this is an article with language learning advice! But I just wanted to let you know that my paid product to help Poles learn English - "Real Life in the USA" - is going to be launched on Monday, October 1st. Learn more here and get a discount!)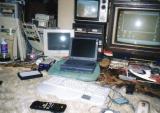 I personally learned Polish by reading and listening to the Harry Potter books in Polish. While a fantasty book like Harry Potter is great for learning general language, it won't be the best choice if your goal is to learn specialized language instead.
In my free ebook, I explain that you should pick content to learn from that uses the same type of language that you want to learn.
While that's great general advice, many people have trouble implementing it in practice!
In fact, I've received the following question so often that I decided it was time to write a complete article about it:
How can I learn technical language? I want to learn how to write computer programs and most of the materials and documentation are in English. Is it possible to use the same method you used to learn Polish?

Of course, there are no audiobooks for technical literature. But you wrote that listening is extremely important! How can I do it?
It's definitely possible to find good reading and listening resources for programming - and most other specialized language!
Read more to find out how!
Specialized language
Every interest, hobby and occupation has it's own special language. There's a language for film, sewing, accounting and basketball. Each has dozens, hundreds or even thousands of terms.
A term is a word or compound word that is particular to a specific context or is used in ways that only make sense in that context.
Finding written and audio content that uses the type of language you want to learn can be difficult - it too is specific to the type of language!
Since many people have asked specifically about IT in English and it's something I personally know a lot about (I'm a professional software developer), this article is going to use technical language as an example.
But you can find resources for any specialized language!
Try not to translate terms!
One peice of advice at the beginning: try not to translate terms!
Even if you have a massive dictionary, it will only have terms for the most common fields. The terms for many specialized languages have never been added to traditional dictionaries - but you may be able to find them defined in glossaries or on the Wikipedia.
However, the best solution is to just learn terms from meeting them many times in context. Try to think of the term only in the target language - not as the literal translation into your native language.
Finding written materials
With technical language, there is no shortage of written materials! (However, this may not be true for other types of specialized language.)
Here are some creative places to look for written materials and a few popular examples for IT in English:
Blogs:
Content aggregators / social bookmarking sites:
News sites specific to the topic: TechCrunch
Forums:
Facebook or LinkedIn Groups
Online Chat: IRC on Freenode.net
Textbooks:
Finding audio materials
With many specialized languages, audiobooks can be rare. With IT specifically, this is definitely the case.
But the single best suggestion (for any field) is podcasts.
Podcasts are like radio shows except you can download them and listen any time. The great thing is that many of them have transcripts! This isn't true for most other sources of audio.
iTunes is the best place to search for podcasts on any topic. However, here are some suggestions specifically for IT in English with transcripts:
You can also find lots of good audio content on YouTube and Vimeo.
Discuss!
Are you trying to learn any specialized language in a foreign language? What kind?
Have you had any success finding content? What was it? Are you still having trouble?
Write a comment below!