Why my motivation failed (and how you can avoid the same pitfalls!)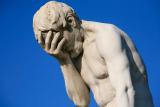 Motivation is probably the most important ingredient in successful language learning.
I frequently get comments to my articles and videos complimenting my perseverance and motivation in learning Polish. But even now, I sometimes have problems with my motivation!
I don't like to fail. Nobody does! Especially not publicly. :-)
However, sometimes you can learn more from the failures of others than their successes. It's easy to believe that someone was successful because they are "special" or have an ingrained talent. It's important to see their failures too!
Which is why I'm going to share a personal story with you about how my motivation failed - very recently, a few weeks ago.
Read more to find out how you can avoid the same pitfalls and renew your motivation!
My failure
Several weeks ago I proposed a group reading project on my blog.
My goal was to spend about 1 hour a day reading and listening to Cylinder van Troffa in Polish for four weeks.
It was going alright! The book was very interesting. It was at a good level: not too hard, but lots of new vocabulary.
I stuck with my plan for about 6 days... And then I started having problems. I missed three days, then got back into it for a couple days. Then a missed a few more days.
About two weeks after starting, I stopped reading altogether.
What happened?
I don't think I really realized what happened until I was listening to the audiobook version of my ebook. Tobiasz, who created it, had just sent me the MP3's and I was very excited to finally listen to them.
In the chapter about planning your daily routine, I wrote:
If you don't already have a daily language learning routine, don't be too ambitious! Many people make the mistake of making their first daily routine really intense; for example, including one or two hours of language learning per day.

Making sure that you don't burn out is extremely important. If you start out with a more modest daily routine and slowly increase it, you will drastically reduce your chances of burning out and giving up.
When I first planned my daily routine, I thought this didn't apply to me: "Of course, I can handle an hour a day - I used to do TWO hours a day!"
But I hadn't been regularly studying Polish for many months! While this routine wouldn't have been a problem for me in the past, it was far too ambitious for me now.
I didn't follow my own advice and burned out!
Renewing your motivation!
While you will likely experience many little failures along the way, the only way to ultimately fail is to give up.
The important thing isn't that you failed, but that you decided to try again after the failure - hopefully a little wiser. :-)
I'm going to try again to read Cylinder van Troffa. But with a much more modest plan: 15 minutes a day. I can always increase it later.
If you've had a similar experience, don't give up! Analyze what went wrong and give it another try!
Has your motivation ever failed? Please share your story in the comments! Let's show everyone that they're not alone!