A blog in crisis! What should I write about?!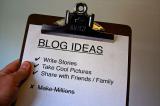 First of all, thank you for reading my blog. I really appreciate it. :-)
Once a week I publish an article with language learning advice. I hope these articles are helpful in your language learning journey.
Lately, I've noticed that fewer people are reading and commenting. It isn't really a "crisis" - that was just a sweet-sounding title. ;-) But I'd like to turn this around before it becomes a real crisis.
I don't just blog for myself (although it is a lot of fun). I write these articles for YOU! If they aren't helping you make progress in learning a language - I'm failing.
Tell me how I can make my articles more helpful for you!
Please fill out this survey and let me know:
What do you want more of?
What do you want less of?
What is your biggest problem with the language you're learning right now?
I'll use the results to decide what I should focus on in 2013! I think it's going to be a great year. :-)
Thanks in advance in advance for your help!