Big changes to my blog! (results of the survey)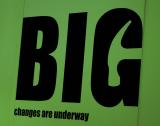 Thanks to everyone who completed the survey about what they'd like to see on my blog in 2013!
Last week I was feeling a little depressed that fewer people were reading and commenting.
But I received lots of good critiques on the survey - both positive and negative. It was sometimes difficult to read, but it's exactly that kind of honest feedback that I needed.
This week I'm feeling very optimistic that I can use what I've learned to make my blog even more helpful for you!
So, thanks again. :-)
Today, I'm going to share the results of the survey and announce some changes and future plans.
I spent a lot of time analyzing your responses and learned many interesting and unexpected things.
Read more to find out what they are!
4 distinct groups
One of the most surprising conclusions was discovering that there are several groups of readers with totally different needs:
English learners (58%) - They want advice specific to English and information about American culture. Surprisingly, a large percentage also want information about Polish culture. These are Poles who want to hear about Polish culture from the perspective of a foreigner. :-)
Polish learners (13%) - They want advice specific to Polish and information about Polish culture. They DO NOT want information about American culture.
General language learners (22%) - They want general advice for learning any language and would like less specific Polish/English advice and cultural information.
Cultural enthusiasts (7%) - They want ONLY articles about US or Polish culture and are sick of all this language learning stuff. ;-)
I always knew that the first three groups existed, but the 3rd group is much bigger than I expected and the 4th group was a complete surprise to me!
74% want more videos!
Making videos takes a lot more time and effort than writing articles. Lately, I've been so busy that I've had to take a break from recording videos.
However, it's clear that most people want more of them!
What surprised me is how many people want videos in English. Of those who want more videos, 80% want them in English.
In the past my YouTube videos in English have gotten an extremely small number of views (hundreds) where my videos in Polish usually get thousands or tens of thousands. That's why I've done so few of them.
In 2013, I'll record more videos and I'll even try some in English to see what happens!
All new articles in both Polish and English
Many people requested that I write less in Polish and more in English. Or vice versa.
However, for some time (since April of last year) I've been publishing all my articles in BOTH Polish and English and I plan to continue to do so!
On the top of the page, you can click "English" or "Polski" to switch languages: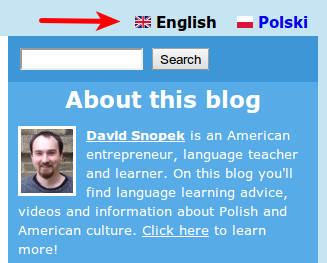 Apparently, lots of people don't see these links, so I've added a new link at the bottom of every article to its translation.

Also, if you're a subscriber to my blog you can choose which version gets e-mailed to you. Click here to change your subscriber options.
Get fewer e-mails... but more of what YOU want!
It turns out that few people actually want to read everything that I write. Most fall into one of the four groups described above and only want to read certain types of articles.
So, I've added more options for subscribers to allow you to choose EXACTLY what you want sent to your inbox.
(If you subscribed after the 17th, you've already chosen these options.)
For example, if you say that you're interested in Language learning and you are learning English, I'll e-mail you articles with explanations of specific aspects of English (vocabulary, idioms, grammar, etc). If not, you won't get those e-mails!
This means fewer annoying e-mails and more of what you actually want to read!
Next week I'll start sending based on your choices, so please update your subscription now!
This is the biggest change and the one I'm most excited about. It will give me the freedom to write on more specific topics, without worrying about alienating certain readers.
Thanks again!
It really means a lot to me that you took the time to fill out the survey.
I'm looking forward to an awesome 2013!
What do you think of the results? How about my changes? Please write a comment below!