Discover the PERFECT language learning goal for 2013! (3 simple questions)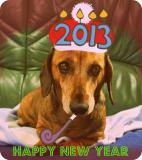 Happy New Year! I hope you had a great holiday season. :-)
You may have noticed that I haven't published any articles for a few weeks. Instead I've been relaxing and reconnecting with friends and family. I've also been reflecting on my successes and failures from the previous year and thinking about my goals for the new year.
Like many people, I have tendency to set many, overly-ambitious goals for myself that are impossible to achieve. Have you ever done this? ;-)
That's why this year I've decided to systematically choose only ONE PERFECT language learning goal. To be "perfect" it should:
Make a big difference in my language learning journey, and
Be actually achievable.
In this article I present three simple questions that I used to choose the perfect language learning goal for me in 2013.
Don't make any more empty promises to yourself!
Read more and use the same questions to discover the perfect goal for YOU!
1. What is your current situation?
You can't plan where to go next if you don't know where you've been! Reflect on your progress so far and your motivation for learning the language (which may have changed since you last thought about it).
What is your current level? Why are you learning the language? What are your strengths and weaknesses?
In the rush of daily life we don't spend much time reflecting, but it's very valuable in goal setting. Do it now!
2. What is the biggest problem you face?
One year is a long time and you can accomplish many things! However, I recommend picking only ONE problem and focusing on that.
While you will definitely improve in other areas in the process, addressing only a single problem will make it more achievable. And picking the biggest problem will ensure that making progress in it will make a big difference.
This should be something big and general, for example:
Overcoming your fear of speaking
Improving your vocabulary
Increasing your listening comprehension
Maintaining your motivation
3. What is ONE thing you can do everyday for the next 30 days?
Setting a dozen goals for the next 365 days is unrealistic.
The best goals are small, short-term and regular.
So, pick one specific thing that you can do everyday for the next 30 days that will get you closer to solving your main problem.
You can always do more! But this one thing will be your required minimum. If you can't do anything else, be sure to do this one thing!
Obviously, after 30 days you should choose something new for the next 30, and so on.
My answers
2012 was an amazing year for me! I published my FREE ebook and we launched a paid English course. I spent more time helping more people in their language learning journeys than any other year!
My Polish is already at an advanced level, but there is still lots of room for improvement. I started learning Polish to get to know my roots, but I've since fallen in love with this beautiful language. I have a pretty big vocabulary and can understand a lot, but I still have trouble expressing myself eloquently.
Ironically, spending so much time helping other people has meant that I have practically no time for my own language learning efforts!
One of the comments to my last article has helped me realize that while I'm trying to make Bibliobird a success, I will have to spend less time on my own language learning. After all, there's only 24 hours in a day! (BTW, I really value your comments - thanks!)
My biggest problem is: finding time to study regularly. I know I can't spend as much time on it as I used to - but I don't want to stop learning! Polish is too important to me.
So, I've chosen an activity that is so fun, easy and achievable, it would be silly if I wasn't able to do it everyday. :-)
My goal: Listen to something FUN in Polish everyday for 30 days (if only for 15 minutes).
That goal may sound TOO modest or boring to you! But it is the perfect goal for me in my situation. I will be very proud when I achieve it!
Write your answers in the comments!
While many of these questions are very personal, I really encourage you to write your answers in the comments below.
There is power in writing down your goals for others to see. It makes them more real and helps you stick to them. This is a technique I've used in the past and something that the biggest language learning bloggers swear by!
I hope that 2013 is the year that you finally make a giant leap forward in the language you are learning!