Get over your fear of speaking in a foreign language (without leaving your house!)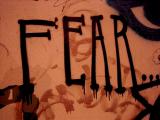 Have you ever tried to speak in a foreign language ... but your mind just went blank?
Then afterwards the words simply came to you?
You are not alone!
Fear of speaking a foreign language is sooo common that psychologists have even given it name: Foreign language anxiety.
According to linguistic Stephen Krashen - one of the foremost experts on how humans naturally learn languages - this anxiety has a strong negative impact on your ability to use a language!
If you want to actually speak in the language you are learning, you will NEED to get over this fear.
However, it's almost never addressed directly in language learning courses!
Today, I'm going to give you some tips for getting over your fear of speaking (without even leaving your house)!
Read more to find out how!
It's a RIDICULOUSLY common problem!
I receive A LOT of e-mail from people asking for language learning advice - probably about 50 messages a day.
I've never done the math but I'd guess that about 50% mention having a fear of speaking! And probably even more have it but don't mention it.
A very, very small number of people are naturally so confident and social that this isn't a problem!
However, the vast majority of us must overcome this fear - especially when learning our first foreign language.
How I overcame my fear of speaking Polish
I personally had to struggle with this fear when I was learning Polish. For me the process took years because I DIDN'T KNOW how to do it! In most situations I avoided saying very much and I constantly worried that I'd make some terrible mistake and everybody'd laugh at me.
However, after a while I discovered that I could talk sort of comfortably with certain people. Not with everyone! But with a friendly enough person in a comfortable situation.
And you know what? I made many mistakes - VERY many mistakes. ;-) But I realized that it wasn't a big deal. The world didn't end.
Slowly the fear subsided when talking with these friendly people. And as my confidence grew, I made fewer and fewer errors.
It turns out that you speak better when you aren't worrying about it!
Step by step, it became less scary in more and more unfamiliar situations - and with less and less friendly people, for example, at the tax office (Urząd Skarbowy) in Poland. ;-)
The best place to conquer this fear ISN'T in a foreign country!
Many believe it's best to be in the country where the language is spoken, because there you are forced to speak.
In a way this is true. There are many situations, for example, in the USA where you can't get by without speaking English.
However, if you're really afraid to speak, you're going to avoid the situations where you're forced to speak.
In fact, those situations are sometimes so uncomfortable that they can even be traumatic!
You can best take advantage the language learning opportunities in a foreign country AFTER you've gotten over your fear.
So, the best place to get over your fear is ...
... in the most comfortable place in the world: At home!
Using the tools like Skype and Mumble, you can use the internet to practice speaking with people from all over the world.
Here is my advice for you:
Find a language exchange partner or a teacher, who is very friendly and you are comfortable with. This may take several tries!
Create the most comfortable situation possible. For example, plan the topics of your meetings in advance so you feel ready for them.
Talk as much as possible!
With each meeting you'll become more and more comfortable and confident. Over time that confidence will extend to more difficult situations!
If you're learning English: meet with my wife and me!
For over 3 months, we've been offering paid meetings over voice chat to English learners.
The original purpose was to help independent language learners maintain their motivation, which can be difficult when you're learning on your own.
However, we quickly noticed that these meetings helped the participants make HUGE progress in overcoming their fear of speaking!
"This makes it increasingly easy for me to overcome my anxiety associated with expressing myself in English. What's more - with each meeting I'm more motivated to continue learning English, which is why I encourage everyone who wants to learn this language to participate!"

-- Maciek (about our premium meetings - translated from Polish)
We meet twice a week in a small group for a one hour conversation in English.
We try to create the most supportive and friendly environment environment possible. We'll never laugh at you for making a mistake!
It only costs 11.87 PLN per meeting!
And if you join us on the premium meetings, you'll also get access to our English course Real Life in the USA for FREE (usually 49 PLN)!
Click here to learn more!
Conquer your fear!
Last week we talked about setting your language learning goals for 2013. If you still haven't decided on a goal, why not conquer your fear!
Are you afraid to speak the language you are learning? Or have you defeated it already? If so, how? If not, what's standing in your way? Please write a comment below!