The key to understanding English tenses!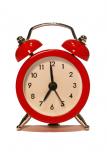 Every language has some difficult bit.
It's that one aspect of the language that you'll be working on over and over again the whole time that you're learning it.
For English, it's verb tenses.
Counting the way the teachers usually do, English has 14-16 tenses. (There's many ways to count them!)
No matter what the exact number - the point is that English has a very complex verb system. I get TONS of questions from English learners about which tense is correct in a particular sentence.
A couple weeks ago, during one of our English lessons over voice chat, a learner (Hi Marcin!) asked me:
Why did you say: "I was using it as an example?" Why not: "I used it as an example?" You weren't talking about it very long - shouldn't it be past simple instead of past continuous?
The answer is actually quite simple. And it ISN'T a grammar explanation. ;-) Really! I won't need to draw a picture or show you a chart.
In fact, all this confusion comes from a fundamental misunderstanding about English tenses, which itself stems from years and years of teachers explaining the tenses in a particular way.
Today, I'm finally going to clear up this misunderstanding!
Read more to learn the key to understanding English tenses!
The tenses AREN'T about reality!
They're about expression.
During grammar lessons, English teachers (unintentionally!) convince their students that the tenses accurately describe some event as it occurred in reality.
When teaching the past simple and past continuous tenses, it's common for the teacher to draw timelines to illustrate the differences between them. For example:


I know because as an English teacher, I drew dozens of these. :-)
(BTW, I know I said I wouldn't need to draw you a picture to explain this - I don't! The picture above is an example of how teachers usually explain the tenses. Sorry if it brings back unhappy memories!)
The truth is, it doesn't really matter what happened in reality! It could have lasted 10 seconds or 10 hours.
In this case, I chose to use the past continuous tense ("I was using"), because I wanted to express the idea that it lasted a while.
More than one tense can be "correct"
Both of these sentences are grammatically correct:
I was using it as an example. (past continuous)
I used it as an example. (past simple)
And, while they mean something slightly different, they both could be used to describe the EXACT SAME EVENT!
In English class, you're trained to think that in a given a situation one tense is "right" and all others are wrong. And, sure, sometimes there are situations like that.
But frequently, many different tenses could be used, depending on what the speaker is trying to express.
Sometimes the difference is very small!
For example:
As an English teacher, I drew dozens of them. (past simple)
As an English teacher, I've drawn dozens of them. (present perfect)
Both sentences mean roughly the same thing - I could've written either of them!
The only difference is that in the 2nd one, I'm also choosing to telling you that I'm still an English teacher. I could say the first one too - in which case, I'm not telling you anything about whether I'm still an English teacher or not.
The reality of my profession doesn't matter!
It's all about what I want to say to you.
Change your mindset!
There are lots of ways to learn the verb tenses.
Personally, I recommend trying to get a feel for them naturally by doing a lot of reading and listening - only looking at the grammar rules from time to time. (I talk about this in MUCH more detail in my ebook).
Of course, there's also the traditional way with charts and exercises and tests.
But what ever way you choose, it will be much easier if you remember: the tenses are about expression - not reality!
Do you have problems with English tenses? What is the most difficult part? Write a comment below!