How to find motivation that is POWERFUL enough to succeed!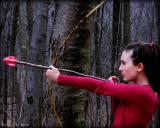 I've written many times (because it's sooo important):
The only way to fail to learn a language is to give up!
Learning a language takes a lot of time and effort. Along the way there will be days when you want to give up!
In order to prevent that, you'll need strong motivation.
Not a weak, external motivation like getting a good grade or finding a new job (although, those can help you get started). You need truly POWERFUL, internal motivation.
But what if you don't have such a motivation (yet)?
I get lots of e-mails from people who really want to learn a language, but don't think they have the type of motivation necessary to succeed.
Luckily, it's possible to find motivation powerful enough to succeed... on purpose!
Today, I'm FINALLY going to explain one of the techniques that I've been recommending over e-mail for years.
Read more to find out what it is!
Love is the most powerful motivation
When we were in Poland, I met lots of foreigners who lived there. The ones who spoke the best Polish were married to Poles. :-) Love forms the strongest motivation.
(BTW, it's only a coincidence that I'm publishing this near Valentines Day! I've been planning to write this article for a long time...)
However, it doesn't have to be love for a person! Even if you're already happily married to someone from your home country (like I am!) you can still use love to motivate you.
Here is what I recommend (you may recognize this if you've e-mailed me for advice in the past):
Find something in the language or connected with the country where the language is spoken...

... and fall in love with it!
This could be anything:
An author
A historical period
A band
The characteristic food from a country or region
An actor
The culture
A television show
Even a person (doesn't have to be romantic love - it could be a close friendship)
It may take you some time to find something that really means a lot to you. But keep looking - it's worth it!
Use the language to get to know it better
Make the language your window to get to know that thing better.
For example, if you love an author, read their books in the original. Of course, you could read the translation. But if you connect with it in the original language, the experience will be much more intimate.
Ideally this motivation will be so powerful, you won't even think about the fact that your doing this in a foreign language. You'll only thinking about this thing that you love. Grammar, vocabulary, pronunciation - will only be afterthoughts.
That's when you know it's working. :-)
Some examples of EXCELLENT motivation
If you love the food of southern France, learn recipes (in French!), watch cooking shows, research the history of their cuisine.
If you think Edward Norton is the best actor in the world, watch all his movies and interviews in English.
If you're entralled by Japanese culture, find a Japanese penpal and develop a friendship.
In the comments on my About me page we're gathering language learning stories. Some of them are truly inspirational! Go read a few of those comments to see some examples of powerful motivations from real people.
Fall in love often!
You should always be on the look out for new things to fall in love with.
Personally, my motivation has evolved considerably over the years!
In the beginning, what I really loved was my family and it's history. I wanted to get in touch with my roots and learning Polish was one way to do that.
At first, Harry Potter was just a random choice - I had never read the books in English and wasn't at all interested in them. But then I fell in love with that story as well!
Eventually, the Polish language itself became a very important part of my life. Now I can't imagine living without it.
Your experience
This isn't the only technique I know for finding motivation - I'll write about the others later - but it definitely forms the strongest internal motivation that I'm aware of.
What is your motivation? Is it (or was it) POWERFUL enough to help you succeed? Has it changed over time? Write a comment!