How to get started learning Polish (from zero!)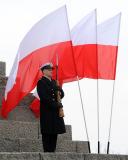 When you're first starting a new language, everything is unfamiliar. There is sooo much that you don't know, it's hard to know where to get started.
The truth is: there's a million ways to get started... and most of them will probably work. However, some may go smoother than others. :-)
Today I'm going to give you my personal recommendation - based on my experience learning Polish!
Of course, I've already written lots of articles about learning Polish that would be useful.
Unfortunately, as a blog, these articles aren't organized in any particular way. When someone asks me for advice on getting started, I have usually have to send them at least a half dozen links. :-)
Today I'm going to organize this information into a short, step-by-step guide!
Read more for 5 simple steps to getting started with Polish!
1. Get your feet wet
At the very, very beginning, I recommend just getting a feel for the language.
Most language textbooks begin with the alphabet and some crazy explanation of what the letters sound like. For example: 'c' in Polish sounds like 'ts' in the word 'cats'. And so on for every letter.
However, it's going to be very difficult to imitate Polish pronunciation if you've barely had a chance to even hear it spoken.
Every language has it's own rhythm. A textbook can tell you that "stress in Polish almost always lands on the penultimate syllable of every word." But that stress pattern actually sounds like something!
Humans are designed to imitate rhythmic patterns. Before you can imitate, however, you need to spend some time hearing it.
I recommend spending a week or two just listening to Polish language in the background.
Here is an internet radio station that plays songs in Polish. There are several channels: click on any of the red buttons which read "Włącz to radio". The first one labeled "Tylko Polskie Przeboje" is Polish hits.
And here is a talk radio station - click on "Posłuchaj" (direct link).
You won't understand anything - but that's OK! That's not the goal of this first step.
2. DO NOT start with the grammar
Most Polish courses and textbooks go straight from the alphabet to grammar.
I've written an entire article about why this is a bad idea. :-)
However, knowing a little about what to expect from Polish grammar can be useful. This will help you to know what to look out for in the future.
Here is a Polish grammar overview for complete beginners.
3. Learn some simple phrases and vocabulary
There are lots of materials and products for learning some simple phrases and vocabulary in Polish!
I've written a few reviews of Polish learning products. The one I personally like best at this stage is Pimsleur Quick & Simple Polish. Click here to read my review!
You'll learn how to introduce yourself and order something at a restaurant. It isn't anything revolutionary but I like it because it's easy (which is important at the beginning) and it's audio only.
But there's lots of stuff out there! The main goal at this stage is to have fun, start learning something and not stress out too much. :-)
I recommend spending 2-4 weeks learning some simple words and phrases.
4. Start learning the alphabet
In my opinion, the best time to start learning the alphabet is after you already know some words and phrases.
Before you know any words, the alphabet is going to seem very abstract and it'll be difficult to understand or remember. However, at this point it will be practical and make more sense to you.
Luckily, the Polish is alphabet is actually quite easy! Even so, I recommend learning it gradually. Don't attempt to master it before moving on. That's why this step is "start learning" and not "learn". ;-)
Click here to read my full article about learning the alphabet.
5. Find some Polish content you love!
Here is where the real learning begins. :-)
I learned Polish primarily by reading and listening to the Harry Potter books in Polish.
You don't have to read Harry Potter. You could also watch TV shows, listen to music, talk with people or play video games.
In my FREE ebook, I write in detail about how to find the best content for you and how to use it to learn. If you subscribe to my blog, you'll receive an e-mail with information about how to download it.
However, my personal recommendation for someone who is just starting out with Polish, is Real Polish. (click here to read my review)
Piotr from RealPolish regularly creates free videos and podcasts for learners of all levels. He also has some paid products. I haven't tried them all, but the one I did was very good!
Anyway, no matter what content you choose, I recommend using the techniques from my ebook to learn from it.
After a few months, you'll no longer be "getting started" - you'll be well on your way to mastering Polish!
What next?
This is when it can be useful to take a look at the grammar rules from time to time. I wrote an article about the first grammar you should learn in Polish.
And, of course, all of my more advanced advice starts to apply to you! For example, how to get over your fear of speaking and how to practice speaking over the internet.
Are you just getting started with Polish? What are you struggling with? Or, if you're more advanced, what DID you struggle with in the beginning? Write a comment below!