"I translated all the words, but I still don't understand!"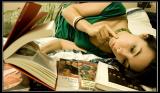 I learned Polish primary by reading and listening to Harry Potter. When I encountered a word I didn't know, I looked it up in the dictionary and made a flashcard.
There's more to it, but that's the short version I usually put in my blog articles and videos. You can find the whole story in my free ebook.
Many other people have tried similar methods with other language and have also been successful!
However, occasionally I get emails from people saying:
I started reading Harry Potter in language X but your method doesn't work! I translated all the individual words but the sentence doesn't make logical sense and isn't understandable.
(BTW, I've been trying to turn all the advice I regularly give over e-mail into articles on my blog, so I can just send links and write fewer e-mails.)
Read more for my response!
First, know "why" you're doing this!
If you're trying this method based ENTIRELY on the two sentences I write about it in my blog articles - go read my free ebook now!
In my ebook, I explain the theory behind why this works AND how you can create a similar method for you and your needs.
I don't believe that there is only one correct language learning method. The best method for you will be specific to you and there are many factors:
Your interests
Your goals
The level of your language skills
The level of your motivation
How well you deal with uncertainty
... and many more
My ebook will give you the all the tools you need to create the perfect method FOR YOU! (And it takes 100 pages, not 2 sentences to do that...)
Some sentences like this is OK
Even when your language abilities are on an advanced level, there will occasionally be sentences that you don't fully understand, even though you know all the words.
Maybe it contains a grammar structure you haven't fully mastered yet?
Maybe there is an idiom or slang word in there, which you don't know about?
Maybe it requires cultural knowledge that you don't have?
Maybe it isn't very clear and even a native speaker would be confused?
In any case, this will happen from time to time ... and it's OK!
You don't have to understand everything. In real life, you can always ask for clarification. And when you're studying, the most important thing is that you learned something new and took one step towards your goal.
But too many is not!
If you're encountering very many sentences like this, it probably means that the content you picked is too hard.
Afterall, even if you aren't studying the grammar consciously, you still need to learn it step-by-step, starting with the simplest structures.
Like I wrote in my ebook: ideally, you want to find something just above your current level. If your motivation is really high, you can even tackle things way above your current level (like I did with Harry Potter).
However, if you don't understand so many sentences that it's bothering you and hurting your motivation, it's time to find something new!
And remember: you don't have to read books!
There are also movies, TV shows, podcasts, language exchange, etc. If content meant for native speakers is too hard, look for content created especially for learners! There are graded readers, special podcasts, news programs and even TV shows with simplified language.
Sometimes it takes several tries to find the right content for you. Don't give up!
Have you ever encountered a sentence where you knew all the words, but still didn't understand it? Write a comment below!