I'm going on a short "vacation" from blogging (personal note)
Hello Everyone!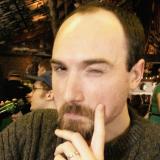 Normally I write articles with advice about language learning or information about Polish and American culture. Today's article is going to be a much more personal!
As of right now there are 224 articles and almost 4000 comments on this blog.
I'm extremely proud of my blog and I love the community that exists around it. I've met TONS of interesting people here and developed a few close friendships.
You guys have helped me with many things over the years: corrected my Polish, sent me encouraging emails, translated my ebook into Polish, recorded an audio version of my ebook and much more.
Thank you so much for reading, commenting and helping! I'm extremely grateful. :-)
(BTW, Tobiasz Karoń, who recorded my audiobook is releasing a new audiobook soon! Check out this video to learn more about it.)
However, it's also a lot of work!
Of course, there is the time to actually write the articles, record videos and respond to comments. But I also receive about 50 emails a day connected with this blog, mostly from people asking for advice specific to their situation.
Due to some changes in my life recently, I've had trouble finding time. So, I've decided to go on a short "vacation" from blogging.
Read more to find out why and what this means!
Changes in my life
I won't go into the details, but our living expenses are increasing. Unfortunately, Bibliobird and our online lessons aren't making us as much money as we had hoped.
So, I've had to devote more of my time to freelance software development, and less to my blog and Bibliobird.
Too many emails
50 emails a day is a lot.
For years, I managed to respond to every single one! Sometimes it'd be a couple weeks late, but I'd respond.
In March, I fell a little behind. And then a little more behind. And suddenly, there are hundreds of unread emails from you guys in my inbox...
If you're waiting for a response from me, I'm really, really sorry! But at this point I have no idea how to catch up. And more e-mails keep coming.
I'll try to filter through the emails for anything important, but I can't promise a response.
I need to focus
I'm slowly realizing that I'm only one person. :-) I can't help everyone one-at-a-time over email.
However, I think I could build the tools that allow a lot of people to help each other! I think those tools could live on Bibliobird.
So, I'm going to spend a few months where I blog less (maybe once a month), refrain from replying to the majority of emails (sorry!), and focus less on the commercial side of Bibliobird...
... all so that I can use my remaining free time to work on making Bibliobird.com more collaborative, so that everyone can contribute to and learn from it.
Once again, I'm sorry that I haven't been responding! But I hope you understand.
Take care,
David.