I'm returning to my blog! (and I gave an interview)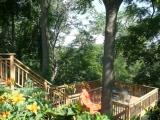 Hi Everyone!
I hope you had an excellent summer. :-) My wife and I certainly did! Since my last article, we've moved to a new apartment and went on vacation in California.
I just wanted to let you know that I'm slowly returning to my blog! I've already recorded material for two new videos about the USA and I've got an idea for an article and video about language learning. Hopefully, I'll finish them soon!
Also, last week Thursday (2013-09-19) I gave an interview on EnglishWithKatie.com! Katie is an American, living in Japan, who blogs about learning English. We talked about many things:
Language learning
Traveling the world
Discrimination in the USA
How Americans feel connected to their roots
Personal development
Listen to the full interview! (search for "David Snopek" on that page)
I hope you like it!
Best regards,
David Snopek.
PS: I recorded a video in Polish about this too!