What are you thankful for? Happy Thanksgiving Day!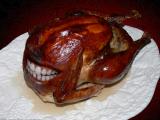 Thanksgiving is an American holiday when we get together with friends or family and remember all the things we have to be thankful for.
Personally, I'm most thankful for:
My wife, Carrie
My health
The wonderful readers of my blog and their patience when I don't publish an article for a while :-)
Sorry I haven't published anything in over a month! In October, I was traveling for work almost every week and I'm still trying to catch up on everything.
However, I'd like to share a couple Thanksgiving related things with you that you may not have seen!
I hope you have a great day and thank you!
What are you thankful for? Write a comment below!