Today we have an interesting article from Marcin at sprachcaffe.com, which offers language courses and camps abroad. It's a mix of tourism and language learning. :-)
(Note #1: I don't receive any kind of payment for publishing this article or the links to their page - I only received this awesome article!)
(Note #2: I translated this article from the original Polish version.)
---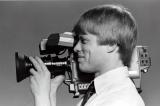 We all know that watching films in English helps us learn the language. We also know the surprise that comes with seeing traces of Poland in them!
Any reference to Poland in American films usually suprises Poles... postively or negatively. Here is a quick overview of Polish references found in American films.
Read more to find out about them!