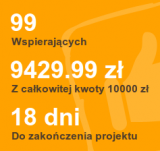 Thanks everyone for your support! This has been amazing!
In general, I didn't expect the presale on PolakPotrafi would go so well. :-) I also didn't think that the option to become a "founding member" would be so popular!
I ran a survey a couple weeks ago and I came to the conclusion that the package itself, "Real Life in the USA," would be the most popular and would make the most money.
However, it turned out to be the complete opposite! The first 20 places to become a founder were bought up within 5 hours of the official start. :-) When I added more, those were bought up in less than a day. I know that if I add more new, they will also be bought very quickly. And the extra money would certainly help us start out!
Unfortunately, when I added more places last time, a few people in the first group were unhappy, because it was supposed to be an exclusive group. They were first so they got the best deal. In a sense it's unfair that the later people got the same deal. I understand that perfectly.
So, when I again add more opporutunities, the people in the first and second groups must get something special. Like I said a few times in the comments and in an update on PolakPotrafi, I seriously cosidered making the price higher for the new people. But after lots of thinking, I decided that maybe that wasn't the best idea.
I don't want to create bad relations in the future between the people in the first two groups and the people in last. Afterall, the people in the third group would pay more (and in a way support the project more), so why should they have a lower status among the founding members? That would also be unfair.
Of course, there must be some limit! We need to have someone to sell the product to in the future. If everyone had lifetime access to everything, we'd have a problem! ;-)
After the presale we aren't ever going to sell founding memberships again - it wouldn't make sense. We'll have to concentrate on creating and selling the products themselves.
However, I think that even 100 founding members would be OK. Looking at the data, if I don't add any new places, will get to 10.000 PLN ($2900) in a week and in the end only a little higher. But if I add some more opportunities to become a founding member, we have a chance to even get twice that! That's why this decision was so hard but also important.
So, I decided on this solution...
Read more to find out what it is! Or visit our page on PolakPotrafi to become a founding member!