How to learn two languages at once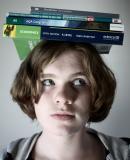 Can I learn two languages at once? Or should I only learn one at a time?
I see these questions often.
Many people have successfully learned more than one language at a time. But many, many more have failed.
Personally, I have experience both succeeding and failing!
Please read more for my advice!
I studied Spanish for six years (in grade school and high school), but I never actually managed to learn anything.
Then, as an adult, I began planning a couple international trips: one to Belarus and Russia with a friend and his family who moved to the US from Minsk, and another to eastern France with a friend who had been there once before and had some great stories.
So, I enrolled in a beginner Russian and beginner French class at the UWM School of Continuing Education (where adults, rather than college students, go for classes). I figured this would work fine because they're two very different languages, so there would be no way I could possibly mix them up! Right?
Unfortunately, that didn't turn out to be the case. I had loads of trouble with both languages, but Russian seemed to stick a lot better. I just couldn't make any headway with French and slowly learned to dislike the accent. :-)
My trip to France got canceled, so I stopped taking that class and focused on Russian. In three years, I reached a lower intermediate level.
Later, while I was still studying Russian, I began to learn Polish. While these are much closer languages (and I still confuse them a bit sometimes), I was much more successful studying Russian and Polish than I was while learning French and Russian.
My first piece of advice is to never begin two languages at once.
The beginning stages are critical and you really need to focus on only one language. Otherwise, despite how different the two languages are, you will have trouble keeping them straight!
Later, when your level improves, you can start learning an additional language. By then, the first language will be more solidified in your head, so you should find you have fewer problems.
On the one hand, language learning is like riding a bike: you never truly forget.
But on the other hand, it's a lot like playing a sport: if you stop for a while, you'll get out of shape.
For every hour you study the new language, try to devote at least 15-30 minutes to reading or listening to something in the first language. This is an area I've totally failed in and now my Russian is extremely rusty.
Russian and French are different enough that if I had known one of them to at least an intermediate level, I wouldn't have had problems learning both.
When I first started learning Polish, I would accidentally use Russian words in my Polish (usually because I didn't know the Polish word). Now, I do the opposite. :-) But it's not that bad.
Choosing something in a different language family will help reduce this problem. But, of course, learning something in the same language family will give you a head start! So, it depends on what you want more.
Have you tried learning two languages at once? Were you successful? What helped and what hindered your progress? Write a comment below!