Things I Love About Poland #06: Eating out!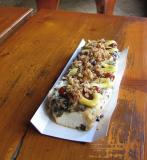 This is the sixth installment in my series of articles called "Things I Love About Poland," in which I discuss differences between Poland and the USA.
It's been awhile since I wrote an article in this series! Right when we got back from our last trip to Poland (in October 2010), I made a list of over twenty ideas to write about. :-)
I was hoping to visit Poland again in the fall this year, but with all the work we're doing on Bibliobird, it looks like that will be impossible. :-/
(BTW, our paid product to help Poles learn English - "Real Life in the USA" - is going to be launched on Monday, October 1st. Learn more here and get a discount!)
So, now that fall has come, I'm feeling a little nostalgic!
In my first article in this series, I wrote about one thing I love about going out to eat in Poland - and today I'm going to tell you three more!
Read more to find out what they are!
Vegetarian restaurants
It's no secret that I've been a vegetarian for the past few years. Most Poles seem to think that Poland isn't a vegetarian friendly country - but it's not true!
When we were in Kraków, there were several vegetarian restaurants. Our personal favorite was VEGA on Krupnicza street, but there was also a location on św. Gertrudy (looks like it's closed now) and Chimera on św. Anny.
Do you know how many vegetarian restaurants there are in Milwaukee? None!
There is one in Brookfield, a suburb that's a 30 minute drive from our house and we don't have a car. So, needless to say, I've never eaten there.
I've gotten used to skimming restaurant menus for the one or two things I can eat. But going to a vegetarian restaurant where I can eat anything on the menu is such a wonderful experience! And it's something that I've only ever experienced in Poland. :-)
Sauce
In Poland, there is a wide variety of sauces served with lots of foods - some that an American would never expect, for example: pizza!
If you go out to a decent place for pizza in Poland, you'll be able to choose from a few sauces, including: ketchup, garlic sauce, mayonnaise-based sauces, and others depending on the restaurant (I've been to one with sambal sauce). But even the crappiest restaurant will offer you ketchup to go with your pizza.
I usually pour a little bit of the sauce on my slice of pizza before eating it.
Zapiekanki
A zapiekanka is half of a baguette, baked with cheese and other toppings, commonly mushrooms and meat, but you can put pretty much anything on it!
When we were in Kraków, we spent a lot of our free time just walking around the city center. On almost every corner you can buy zapiekanki or kebab, right on the street. This is great if you're walking around all day sightseeing or need to get something to eat on your way home from a night out.
Our favorite place for zapiekanki was on Plac Nowy in Kazimierz, where (you guessed it!) there was a large selection of sauces. :-)
In Milwaukee, there isn't much in the way of street food. In the summer, there are a couple of hot dog stands downtown. But they are few and far between - I think because few people walk, most are driving.
Have you ever visited a vegetarian restaurant, had ketchup (or other sauce) on pizza or tried a zapiekanka in Poland? Or (if you're Pole) do you think it's strange that we don't have these things in the USA? Write a comment below!